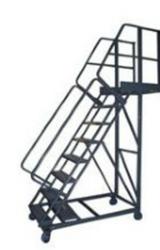 Why Accept Bally-Less when you can Have BALLYMORE ladders. Ballymore IS the rolling ladders source
Philadelphia, PA (PRWEB) November 28, 2012
Ballymore makes some of the finest rolling ladders in USA, and A Plus Warehouse has been selling the entire Ballymore ladders line since 1996. In fact, Ballymore is one of the original product lines offered by A Plus Warehouse! According to Ed Stairman, "Why accept Bally-Less when you can get the amazing quality of Ballymore" Mr. Stairman is not speaking only of the intrinsic quality of the Ballymore Ladders line , but also of the amazing packaging engineering that goes into product shipments. Historically, rolling ladders were a scary line to sell. Rolling ladders were too easy to damage in transit and almost impossible to fix to customer requirements.
Ballymore Ladder may be the first company that understood that problem free delivery is just as important as quality manufacturing, and over 10 years ago the company took intelligent steps to solve the problem. The solution started with freight saver ladders that shipped partially unassembled. These rolling ladders offered less volume and therefore less freight charges and a denser package that resulted in less damage. From there, Ballymore introduced pre-packaged ladders and modular replaceable ladder parts. Now when an A Plus Warehouse customer makes the intelligent decision to order a Ballymore ladder, a quality ladder will be delivered right away damage and worry free.
There are several rolling ladders Ballymore produce, and they each merit some attention.
1. Cantilever Ladders – A cantilever ladder has a platform that goes beyond the ladder base. Ballymore designs these ladders with adequate ballast so they do not tip. For additional capacity, additional ballast and support can be added at the factory.
2. Outdoor Aluminum Ladders – These ladders can be up to 10 steps high and are great for outdoor use – given their aluminum design
3. Stairway Slope Ladders – These rolling ladders have a more gradual slope – just like a stairway. Workers can use these ladders in either direction.
4. Stainless Steel Ladders – For use in food service and sanitary operations.
5. Monster Ladders – These are used for plus sized workers
Variety is clearly the spice of life at Ballymore, and when a customer needs a rolling ladder – Ballymore will typically have the required product.
A Plus Warehouse is a nationwide materials handling dealer specializing in rolling ladders, but offering a wide variety of other industrial equipment for sale. Customers that purchase Ballymore ladders from A Plus Warehouse typically also purchase pallet racks, and steel shelving from A Plus Warehouse as well. Customers are encouraged to call A Plus Warehouse at 800-209-8798