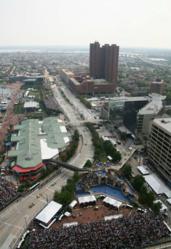 This year, they can reserve a space as close as a block or two to their preferred entrance at very reasonable prices and have one less thing to worry about on their way to enjoying the race," says Parking Panda CEO Nick Miller
Baltimore, MD (PRWEB) August 20, 2012
The Grand Prix of Baltimore is back for another exciting Labor Day weekend and the group organizing the event has just teamed up with Parking Panda, a company founded and based in Baltimore, as the official parking provider. While the streets of Baltimore transform into a racetrack, the opportunity to find a parking space becomes pricey, scarce and an overall pain. But, no need to worry, this year's organizer, Andretti Sports Marketing, has now officially teamed up with Parking Panda to offer pre-reserved parking options on its website at dozens of parking garages, lots and private spaces, representing tens of thousands of parking spaces conveniently located all around the track throughout downtown Baltimore. This will increase the amount of parking that is available on race weekend and allow customers to have guaranteed parking in order to avoid being stuck in traffic or driving around looking for parking on the days of the event.
Parking and traffic during last year's 2011 Grand Prix of Baltimore was very frustrating and symptomatic of wider dissatisfaction with the previous organizers, Baltimore Racing Development LLC, who failed to pay millions of dollars to vendors, the city and the state in 2011. But this year's organizers, Andretti Sports Marketing, are determined not to repeat the mistakes of its predecessor. By partnering with Parking Panda, customers can now reserve parking passes for Baltimore Grand Prix at parking garages and lots throughout the city in advance, at prices ranging from $3 to $30 per day, depending on proximity to the race.
"A lot of people were very dissatisfied with event parking for Grand Prix last year. Many people had to park far away by the stadiums and wait for a bus to take them to the event. This year, they can reserve a space as close as a block or two to their preferred entrance at very reasonable prices and have one less thing to worry about on their way to enjoying the race," says Parking Panda CEO Nick Miller.
Parking Panda was founded and is based in Baltimore, and it has quickly developed into one of the leading marketplaces for online parking reservations as it continues to expand nationally. It partners with parking garages and lots in cities everywhere to allow customers to save time and money by booking guaranteed parking for events, games and other trips into the city.
Founded in early 2011, Parking Panda now lists over 500,000 parking spaces at 4,000+ locations in 23 different U.S. cities and continues to expand. But Parking Panda certainly has not forgotten its Baltimore roots. "Grand Prix of Baltimore was actually our first really big hit that helped us to get established in Baltimore in 2011, so the fact that we were able to partner with the event in an official capacity after all of the growth and expansion we have experienced over the last year is really great. We love seeing things come full circle with an event like this one that is quickly becoming such a signature event for Baltimore," says Miller.
Attendees of Grand Prix of Baltimore 2012 can reserve parking for the event online now from the official Grand Prix of Baltimore website, or directly from Parking Panda.
Parking Panda is an web, iPhone and mobile app that allows customers to save time and money by finding and reserving parking online. Visit us on the web at Parking Panda or download the iPhone app