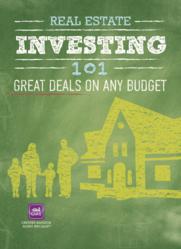 Real estate is an excellent investment vehicle because it puts you in control, and it provides immediate, steady cash flow that builds over time. Real estate also has great tax benefits that let you keep more of your returns.
Baltimore, MD (PRWEB) April 30, 2013
Local real estate agent and Certified Investor Agent Specialist, Daniel McDevitt of Cummings & Co.Realtors, released a report on the basics of finding lucrative investment properties in our area.
This report, which can be found at http://www.TeamMcDevitt.com, explains what to look for when investing in real estate, so even those brand new to investing can understand both how to find properties and the advantages of real estate as an investment vehicle.
"When it comes to real estate investing, many people believe investment properties belong to one of two extremes: exclusive vacation homes or run-down properties to be rehabbed and resold. In general, people don't realize that the majority of investment properties are much more modest, and that their own neighborhoods contain great potential investments," McDevitt, a Certified Investor Agent Specialist® (CIAS) said.
"My hope is that this report will help shed light on what criteria actually make a good investment property, and show how, when purchased correctly, investing in real estate can provide regular, stable gains for investors."
McDevitt emphasized that the primary benefit for investing in real estate is cash flow, or the money a property earns each month from rent after expenses. "In the report, I focus on how to find properties that cash flow. For most investors, cash flow should be the chief consideration when assessing properties because cash-flowing properties will earn money even when they are not appreciating."
In addition to helping new investors, the CIAS designation McDevitt has acquired provides specific understanding of the needs of all real estate investors, including rehab and resell investors and advanced, performance investors. Through comprehensive training and experience, CIAS-designated agents are able to provide property analysis for any investor.
To learn more, visit http://www.TeamMcDevitt.com and look in the Real Estate Investing Section of the site.