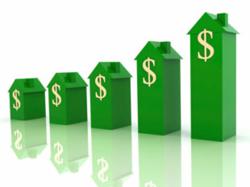 We have gotten so used to the downward trends from the past few years that most people don't know that prices are increasing rapidly
Baltimore, MD (PRWEB) May 28, 2013
Homeowners in Maryland who found themselves underwater during the housing crisis are discovering that they may now have equity resulting from exceptional price increases in the last 6-8 months.
"We have gotten so used to the downward trends from the past few years that most people don't know that prices are increasing rapidly," says Dan McDevitt of Cummings & Co. Realtors. "The impact of these price increases means that people who used to be underwater may now finally have equity in their homes again."
Many homeowners in this situation had to resort to foreclosure, short sale (selling the home for less than what is owed on the mortgage), or other alternatives. "Today, those homeowners that have been able to wait until the market improved may be able to sell the home without having to take the hit that a foreclosure, or even a short sale, will have on their credit," McDevitt said.
As a Certified Distressed Property Expert® (CDPE), McDevitt is specially trained to help homeowners facing foreclosure understand their options, and to help them understand all the facts of their circumstances. "It's important that homeowners in distress understand that they're not alone. There are alternatives to foreclosure, and with recent equity gains, many may have a viable way out of a difficult situation," McDevitt said.
McDevitt has launched a website at http://www.BaltimoreAreaHouseValues.com where homeowners can go and get reports on all recent home sales in their neighborhood. More importantly homeowners can sign up to have these reports sent to them on a regular basis. "Even homeowners that are not interested in selling right now this is a great tool for all Baltimore, MD Homeowners to keep track of the value of their biggest asset," said McDevitt