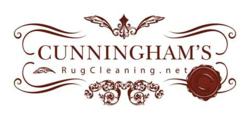 Our focus is on cleaning methods that are safe for the rug and safe for the owners.
Elkridge, MD (PRWEB) July 11, 2012
Chip and Alecia Cunningham, founders and owners of Cunningham's RugCleaning.net, are pleased to announce that their Baltimore rug cleaning company has been recognized for its commitment to superior levels of customer service and reliability with an 'A' rating by the Better Business Bureau. In order to be accredited by the BBB, a company must meet a number of standards as established in the organization's code of Business Standards. A business that meets BBB accreditation standards must have a positive record for at least 12 months, advertise honestly, maintain transparency in all dealings, demonstrate ethics and integrity in customer relations, and honor and protect customer privacy.
Cunningham's RugCleaning.net started out as part of a restoration dry-cleaning operation, specializing in service to homes and households experiencing damage from floods, fires, sewage backups and other serious issues. Over the years, Chip and Alecia honed their skills in the art and science of dry and wet cleaning fibers, using techniques that removed the worst contaminants while keeping fibers intact. Eventually, satisfied customers began approaching the Cunningham's with their valuable Oriental rugs for routine rug cleaning in Baltimore, Washington D.C., area.
Over the years, the Cunningham's research led them to develop their own methods for ensuring gentle, yet effective rug cleaning of delicate rugs for their Baltimore rug cleaning clients. They employ a six-step process that begins with dusting in order to remove loose particles from the fibers, treating for pet urine if necessary, and a thorough washing in a Turkish bath using a paddle wheel, specialized detergents and proprietary materials in order to remove the majority of stains and contaminants. The rug is then spot cleaned as necessary, put through a centrifuge to remove 98% of the moisture, then allowed to air dry overnight. Rugs are then tested for any residual bacteria before it is returned to the customer. These rigorous and unique methods make them one of the most specialized Baltimore rug cleaners throughout Greater Washington DC and Northern VA.
Chip says, "We focus on cleaning methods that are safe for the rug and safe for the owners."
ABOUT CUNNINGHAM RUG CLEANING: Cunningham Rug Cleaning was established in 2005 and serves clients from Northern Virginia to the Pennsylvania state line, including communities on the eastern shore of Maryland. For estimates and appointments, visit us online at http://rugcleaning.net or call (443) 561-3000 or (855)784-3672.