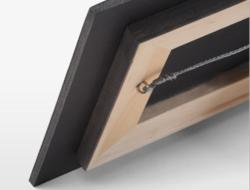 We make photo paper prints of all sizes to meet your layout specs. We also provide a storefront solution, and we process payments from clients
San Francisco, CA (PRWEB) February 08, 2012
San Francisco's color prints company, Photoworks SF a premier photo lab and image processing center announces the addition of bamboo mounting to its mounting options. Using any of Photoworks' mounting products, standard-sized prints, from 4-by-6 inches to as large as 40-by-60 inches, are available for mounting. Custom sizes are available with a $150 minimum order and require a one-week turnaround. Prints can also be mounted with a wood frame/brace behind, ready to hang. Any Photoworks SF print can be mounted to either foam core or the sturdier gator foam.
Using Photoworks' website, clients can order color or black and white prints up to 30-by-40 inches, gallery wrapped canvas prints, fine art or giclee prints, and headshots, as well as more traditional needs, such as business cards and brochures.
For more than 20 years, Photoworks has survived many changes in a tumultuous photo industry. It has embraced digital technology while maintaining film roots, and its on-site owners value the retail store as much or more than its substantial internet presence.
"We make photo paper prints of all sizes to meet your layout specs. We also provide a storefront solution, and we process payments from clients," David Handler of Photoworks said.
For more information about any of Photoworks' print products or services, call 415-529-5212, view the store on the web at http://www.photoworkssf.com or visit 2077-A Market St. in San Francisco.
About Photoworks San Francisco
Photoworks is San Francisco's premier photography lab and image processing center. Since 1987, Photoworks SF has met the needs of the San Francisco Bay Area photo community and beyond. Its comprehensive services are tailored to both amateur and professional photographers who are looking to get the most out of their images. Catering to digital and traditional film photographers, its services include giclee printing, postcard printing, film scanning, business cards printing, brochure printing, color prints and more.
###