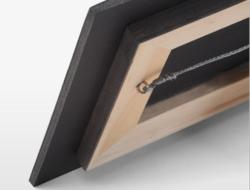 Need the perfect gift for Mother's Day? Check out our prints mounted to Bamboo
San Francisco, CA (PRWEB) April 28, 2012
Tax day has passed and the IRS might not have gone easy on the population, but Photoworks SF is. The San Francisco giclee printing and color print specialist is currently featuring a "Loves your Mom" Mother's Day printing sale. During the event, which is going on through May 9, customers will receive 20-percent off all digital print products.
"Need the perfect gift for Mother's Day? Check out our prints mounted to Bamboo," David Handler of Photoworks SF said. "This event also includes photo prints, canvas prints, giclee printing, postcard printing, mounting and all business/press products like business cards printing, brochure printing, greeting cards and flyers."
The promotion code for the sale is "mom" and applies to online store and FTP orders. For in-store orders, a printed copy of this release can be shown upon purchase at the store. This is not a one-time deal, as the code and printed release can be used multiple times if an unexpected gift-giving opportunity presents itself! However, the sale cannot be used retroactively or applied if the code is entered incorrectly, and it may not be combined with other offers.
For more information about the "Loves Your Mom" sale or any of Photoworks SF's products or services, call 415-529-5212, view the printing experts on the web at http://www.photoworkssf.com or visit 2077A Market St. in San Francisco.
About Photoworks SF
Photoworks SF is San Francisco's premier photography lab and image processing center. Since 1987, Photoworks SF has met the needs of the San Francisco Bay Area's photo community and beyond. Its comprehensive services are tailored to both amateur and professional photographers who are looking to get the most out of their images. Catering to digital and traditional film photographers, its services include giclee printing, postcard printing, film scanning, business cards printing, brochure printing, color prints and more.