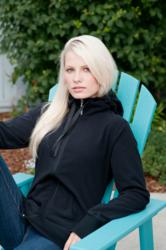 We believe TerraFrog customers will feel very good knowing their purchase resulted in additional donations to this environmental think tank.
Edmonton, Alberta (PRWEB) April 16, 2012
Women's Sportswear designer, TerraFrog Clothing Corporation, announced their Earth Day Donation Program today. TerraFrog announced the company will donate one dollar to the Pembina Institute each time an Ecosensor Hoodie is purchased from TerraFrog's online store between April 16 and Earth Day, April 22, 2012.
"We chose the cozy Ecosensor Hoodie for our Earth Day Donation Program for two reasons," said TerraFrog Designer Bobbi Windsor. "The number one reason is that the jacket is partly made from recycled plastic containers so it already has an environmental theme. The second reason is that the Ecosensor Hoodie is our most popular jacket and we want to tie the Earth Day Donation Program to a product that will result in a lot of donations for the Pembina Institute."
The hoodies, affectionately referred to as the "Pop Bottle Hoodie" by TerraFrog customers and retailers, are available for purchase on TerraFrog's online store at http://www.terrafrog.com. TerraFrog Clothing Corporation will inform customers who purchase the Ecosensor Hoodie during the Earth Day donation campaign about the donation. Said Windsor, "TerraFrog Clothing Corporation already donates to the Pembina Institute on a monthly basis. We believe customers will feel very good knowing their purchase resulted in additional donations to this environmental think tank."
About TerraFrog Clothing Corp.:
TerraFrog Clothing Corp. is a Canadian athletic wear manufacturer providing unique, high quality yoga clothing to individuals and select retail outlets. Designs can be purchased directly through the TerraFrog website or at select retailers across Canada and in the United States.
About Pembina
The Pembina Institute is a Canadian non-profit think tank that advances sustainable energy solutions through research, education, consulting and advocacy. Pembina provides policy research, leadership and education on climate change, energy issues, green economics, energy efficiency and conservation, renewable energy, and environmental governance.
About Earth Day
Celebrated every April 22, Earth Day is the largest, most celebrated environmental event worldwide. Events are held across the globe to increase environmental awareness and appreciation of the Earth's natural environment. Earth Day is celebrated in more than 170 countries every year.