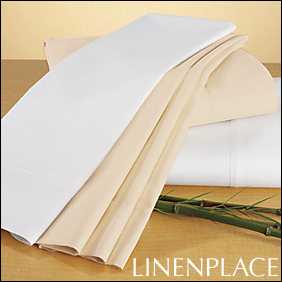 I never thought there'd be a day when I put something on my bed other than Egyptian cotton, and I never would have guessed it would be bamboo!
New York, NY (PRWEB) March 6, 2007
In the last year, the popularity of bamboo sheets and other bamboo products has shot up almost as quickly as the plant itself. This versatile natural fiber has many qualities prized especially by the linens industry - including antimicrobial properties and 'breathability.' As customers spring for more eco-friendly products, bamboo has found its way not only into sheets, but towels, clothing and flooring as well.
Bamboo in its natural state is pretty remarkable. Technically a grass, bamboo can grow to be 130 ft tall and up to a foot in diameter, and it thrives in a variety of climates. It grows easily and quickly, with some species growing as much as 1-3 feet a day. Most varieties grow about 2 inches a day, and will reach their full height within one growing season. Fully matured bamboo used for flooring and furniture is typically cultivated after 3 or 4 years when it becomes sufficiently woody and strong.
Unlike cotton, bamboo requires no pesticides or fertilizers and needs very little water to grow and sustain. Another unique and highly beneficial feature of bamboo is something called "bamboo kun." This naturally antimicrobial, antifungal bio-substance protects bamboo from pests and pathogens in nature, and is found in the spun fibers as well. Its antibacterial qualities have been put to the test by a number of groups, including the Chinese Industrial Testing Center and the Japan Textile Inspection Association. The results showed that after a 24-hour bacterial incubation period, bamboo fabric displayed a 99.8% kill rate. In the JTIA test, bamboo fabric was first washed 50 times, and then subjected to 24 hours with live bacteria. Bamboo was still over 70% effective at eradicating the bacteria.
Another advantage of fabrics made from bamboo fiber is breathability. Even more absorbent than cotton, bamboo wicks moisture away from skin so that it can quickly evaporate. This keeps the wearer or sleeper dry and comfortable. Bamboo material is also softer to the touch than cotton, and drapes similarly to silk. Its feel is comparable to modal and rayon - other natural wood-based materials.
Bamboo bedding has been popping up in big-name stores all around the country, including Target, Bed Bath & Beyond and Linens 'n Things. As bamboo grows in popularity, a wider range of items made from it has sprung up as well. Wamsutta has recently introduced a line of bamboo products such as sheets, blankets and pillows called Zen Comforts. Heather Young, Vice President of Linenplace.com, Inc. - an online retailer that carries Wamsutta's Zen Comforts sheets - explains this item's draw:
"The Zen Comforts sheets are actually the best of both worlds - 60% bamboo and 40% cotton. The bamboo, of course, makes them very soft and breathable, and the cotton adds durability, greater elastic recovery and greater ease of care. They're a whopping 300 thread count, too. That definitely puts them in the luxury linens category."
Although the growing process of bamboo is eco-friendly, there is still some debate as to how eco-friendly the production and manufacturing processes are. Sheets made from 100% bamboo are still relatively expensive at upwards of $200 for a set. Wamsutta's Zen Comforts bamboo/cotton blend sheets are about $70 for a queen set. Some sites sell sheets for as low as $30.
As the popularity of bamboo rises, so does its number of loyal followers. Ms. Young, a recent advocate herself, puts it like this: "I never thought there'd be a day when I put something on my bed other than Egyptian cotton, and I never would have guessed it would be bamboo!"
###