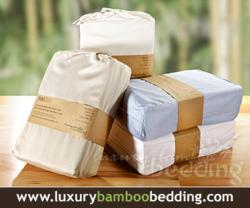 Every repeat customer insisted on waiting for the mid-January arrival of new inventory.
(PRWEB) February 26, 2013
Luxury Bamboo Bedding has reported that the customer response to 500 thread count luxury bamboo sheet sets has been extraordinary. Additional shipments had to be rushed in to accommodate the strong demand. Van Shron, CEO of Luxury Bamboo Bedding, reported that for a period of two weeks in early January when some 500 thread count SKU's were depleted because of the Christmas rush, every repeat customer insisted on waiting for the mid-January arrival of new inventory. One delighted California customer said "We love them, we love them, we love them. Congratulations on having an excellent product. We will absolutely wait for the arrival of the new 500 bamboo sheet sets."
When asked what makes the 500's so special, Mr. Shron said that "The bedding consumer, who has discovered the unique comfort of bamboo sheets, has been asking for a bamboo sheet set with the substantial hand feel of the highest thread count cottons and the silky softness and breathability of bamboo. The 500 thread count bamboo sheet set is that perfectly elegant product."
Mr. Shron went on to say "For those folks living in the south or in Hawaii, they will find that in the heat of summer, the 500 thread count flat sheet with its remarkable breathability will replace a summer-weight blanket. A light blanket in the heat of summer is usually an "on-again" off-again" bedding accessory depending on how warm you feel. The 500 thread count flat sheet has wonderful drape and excellent temperature regulating ability (high wicking coefficient) and can be kept on all night for maximum restful sleep."
With ongoing sensitivity to the good environmental narrative associated with bamboo as a source of bedding fiber, Luxury Bamboo Bedding has now taken a minimalist approach to packaging. Both its on-line 500 and 320 thread count bamboo sheets and bamboo pillow cases are now packaged in a self-fabric sac (great for travel sundries) and an un-dyed cardboard belly band (see above). The traditional high gauge plastic zippered bag has been eliminated. Mr. Shron's environmentally conscious "minimalist" approach to packaging is consistent with Luxury Bamboo Bedding's pursuit of "best practices" in its approach to business.
Perhaps Luxury Bamboo Bedding is really onto something – great bedding – luxurious softness – breathability – better sleep – better quality of life. Believe it.
About Luxury Bamboo Bedding:
The concept of Luxury Bamboo Bedding began in 2004 when Mr. Shron and his associate discovered bamboo fabric in a remote area of China. Mr. Shron's company Onedin Sportswear was the first and only company in North America to get certification from Bodycote (currently Exova), a respected international testing facility, that Onedin's bamboo fiber was in fact made from bamboo plant tissue. For more information please contact Van Shron at customerservice@luxurybamboobedding.com.