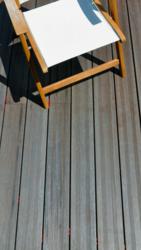 With homes and gardens today, it is so much easier to choose materials that embody forestry ethics and sustainability.
Chelsea, England (PRWEB) May 16, 2012
Delighted to be supporting award winning designer, Patricia Fox, at the 2012 RHS Chelsea Flower Show, CF Anderson, the European distributor for Smith Fong Bamboo, have provided Dex™ decking as part of a selection of ground breaking materials forming Patricia's show garden.
Aralia Garden Design has come up with a first for Chelsea this year using urban rooftop space. Incorporating the highest quality plants and materials, 'Rooftop Workplace of Tomorrow' is an extension of the working office. Individuals or groups can connect and network using tablets, mobiles or large video projection screens, sitting in contemporary hanging chairs or within the 'lounge' area under a weatherproof canopy, surrounded by beautiful planting. There is also a 'pick your own' Herbal Tea Bar, open to the sky.
"Absolutely thrilled to be involved with this super Rooftop garden scheme – perfect for an urban setting, says Patricia. It's been a lot of hard work (and fun) working with a range of quality suppliers, without whom we couldn't have pulled together this technological feast! We are so looking forward to seeing it all come together for the RHS Chelsea Flower Show.
With sustainability and ease of maintenance at the forefront of this concept, Patricia chose to include Dex™ decking by Smith Fong Bamboo – 100% rapidly renewable Moso Bamboo, lightweight and durable, Dex™ decking is simple to install and is held tight using Dex deck clips, with no drilling required.
"This garden is all about technology meeting tranquility, Patricia explains. " It's a garden with a twist! But it's also a garden that is sustainable, and is about the reclamation of unused roof spaces. Smith and Fong have been a pleasure to work with and we firmly believe their new materials will be of interest to the visitors at Chelsea".
"Smith and Fong bamboo products have been popular with design professionals and homeowners for years" said Scott Campbell, European Sales Representative for Smith Fong Bamboo "and we are absolutely delighted to be able to introduce our first exterior product at such a prestigious event as the RHS Chelsea Flower show and, in particular, working with Aralia Garden Design, the winner of the BALI Landscape Design Excellence Award for the last 3 years."
Keen to use eco friendly materials wherever possible, Aralia Garden Design found Dex™ by Smith and Fong offered everything they looked for in a decking. Dex™ is tested for fire, moisture content, compression, and formaldehyde emissions and is made with Smith & Fong's unique, zero added urea formaldehyde system, BambooPure™.
"With homes and gardens today, it is so much easier to choose materials that embody forestry ethics and sustainability, says Scott "and I trust the Smith Fong Bamboo product range will increasingly be a part of that choice."
Aralia Garden Design and Smith Fong Bamboo hope to inspire anyone to turn their unused outdoor areas into beautiful and functional spaces, with lush planting to help sustain the environment alongside well chosen complementary materials. If you are looking for creativity and innovation at the 2012 RHS Chelsea Flower Show then look no further than the rooftop inspired creation by Patricia Fox of Aralia Garden Design at RHW 37. 22nd – 26th May 2012.
Headquarted in San Francisco, CA, Smith Fong Bamboo introduced bamboo flooring to the United States in the early 1990s. For nearly two decades, the company has become the most trusted brand in the industry for sustainability and quality bamboo manufacturing. Smith Fong Bamboo bamboo flooring is made of 100% rapidly renewable bamboo, ensuring that none of its flooring contributes to over-harvesting. The company took the extra measure of getting FSC Certification to attest to its commitment to responsible forestry practices as well as FloorScore Certification to prove its flooring is the cleanest option for indoor air quality.