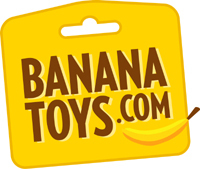 Our customers spoke and we listened. We understand and cater to our customers' needs and we strive to ensure they get what they want. And this is the end result. We are very excited to showcase our new and greatly enhanced website in response to our customer demands
Glendora, CA (PRWEB) October 23, 2008
BananaToys.com, a worldwide online retailer of action figures, remote control toys and cool collectibles, today announced the launch of their newly redesigned retail website fully equipped with new features and easy-to-use tools that will transform the way consumers shop for toys.
Browsing for favorite toys is now easier than ever. Shoppers can now quickly and conveniently browse through toy selections set by their favorite brands, categories suited for each unique personality, price range for the budget-conscious, and age. This ensures that there is always something appropriate and fun for everyone.
Other customer-focused website additions and enhancements include:
Peel of the Day -- Another fancy banana term for "Deal of the Day." Get it? Special items are selected daily to be featured and highlighted as special deals for each day. Shoppers will find these deals on top of the website's main page so the goodies can't be missed.
Birthday Club -- Forget someone's birthday? It's even worse when it's a child's birthday. You'll never hear the end of it. Now family members can be reminded of the kids' birthdays. This was created to help remind busy adults birthdays are coming up so they can get started shopping for their kid's favorite toys. Shoppers can simply fill in the information on the Birthday Club form and they will be magically reminded 14 days prior to the birth dates. They will also be sent a secret $5 coupon code for any BananaToys.com purchase.
Banana Gift Certificates -- In case BananaToys.com has way too many goodies or customers that have no clue what to buy, there is a new solution: gift certificates available in the amount of $25, $50, $75 and $100.
Banana Newsletter -- Shoppers can stay informed of BananaToys.com new products, exclusive deals, secret coupon codes, and company news and updates by subscribing to the Banana Newsletter. First-time subscribers will receive a free shipping offer on their next order.
"Our customers spoke and we listened. We understand and cater to our customers' needs and we strive to ensure they get what they want. And this is the end result. We are very excited to showcase our new and greatly enhanced website in response to our customer demands," said David Dang, BananaToys.com President and CEO.
The new website is in full swing at http://www.BananaToys.com. Feel free to visit and take a look around.
About BananaToys.com®, Inc.
Founded in 2003 and headquartered in Glendora, CA, BananaToys.com, Inc. (http://www.BananaToys.com) is a worldwide online retailer of action figures, remote control toys, and cool collectibles, with one simple mission: to provide a safe/friendly environment where adults and kids alike can shop together online as a convenient alternative to shopping at crowded malls and standing in long store lines.
Contact: Banana Guy
BananaToys.com®, Inc.
Phone: 626-963-0238
Email: bananaguy@bananatoys.com
# # #