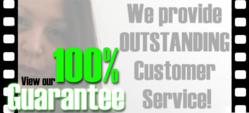 We goal to exceed expectations every single day of the year
(PRWEB) November 19, 2012
This is the time of year when countless of people attempt to complete their gift shopping lists. Questions plague their minds on whether the present will be the right one, or if it will fit. Planet 13 says they alleviate those fears with their "Free Exchange & Return" policy. The band merch store has just launched a video about the system on their YouTube channel. "Our existing customers have always known they can exchange or return items with us at no extra cost," says Shawn Scott, musician and owner of Planet 13, "but with so many new customer queries coming in, I thought it was time to bring it to the forefront."
As they mark-off their holiday shopping list, the big question running through many online shopper's minds revolves around if their chosen gift will be accepted and truly enjoyed by the recipient. That well-known uncertainty haunts gift-buyers because many internet retailers are unclear about their exchange and return policies, if they even have one at all.
Planet 13 claims their customers don't experience that uneasiness because of their customer-focused policy that's been in place since their inception. "We've always believed in providing unparalleled customer service," states Shawn Scott, the frontman of once-popular punk band Voodoo Lovecats, and owner of band merch store Planet 13, "letting our customers exchange or return items is just part of what we've always done."
What's more is that Planet 13's policy doesn't just allow customers to exchange or return, but they even supply a reply-paid label for Australian customers. "Why should the customer be penalized if something didn't work out?" remarks Shawn about providing a free way for patrons to return goods, "I think online shopping is meant to make life easier, not more difficult, so our policy is geared towards that."
Leading into this holiday season, the band merchandise store has received a high number of queries about their exchange and return procedures, and in response Planet 13 launched a video on their YouTube Channel to further explain it. "After eight years of doing this, I just took it for granted that people just knew about our outstanding customer service and policies," remarks Shawn, "all they want is peace of mind. So, I decided it was time to bring our policy to the forefront. I know it will calm anxieties for many online shoppers out there."
Shawn closes by saying, "The video might be new, but our customer-focused policies aren't. Our customer service is switched on every day, not just when customers buy, and not just for the holidays. We goal to exceed expectations every single day of the year."
Planet 13's exchange and return video has just been launched, to view it visit: http://youtu.be/jRmAxZs5iBE
A bit about Planet 13™
Planet 13™ was conceived and created in 2004 by Shawn Scott, front man of the once-popular Melbourne-based glam/punk band Voodoo Lovecats. His online store Planet 13 features an extensive range of fully licensed entertainment items, band shirts and merchandise.