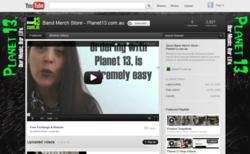 These videos are just an extension of our great service.
Melbourne, Victoria (PRWEB) November 28, 2012
Using only photos and descriptions to guide them, online shoppers face the uncertainty of knowing whether what they're buying online is what they'll actually receive in their mailbox. Planet 13 removes the fear by making their customer's shopping experience easier with the launch of their YouTube Channel featuring videos of their products. "It's hard to imagine all aspects of a product from just a photo and description," says Shawn Scott, musician and owner of band merch store Planet 13, "so we've started uploading videos of each product to our YouTube Channel, and it's helped answer questions for our customers in a single view."
The ease of getting nearly anything delivered to your door with a simple click of a button has made online shopping commonplace. What's also commonplace is the classic 'text and photo' descriptions of products, which aim to convince the potential customer to buy.
Planet 13, an online band shirt and merchandise store, receive countless emails asking for further details on items such as shoes and accessories. Items on the website have both photos and full descriptions, but "Since items like footwear have a lot of different elements to them," says musician and owner of Planet 13, Shawn Scott, "trying to accurately convey everything about that item in writing isn't easy, be it online or in an email."
To help ease the flow of customer enquiries about his products, Shawn has delegated the task of creating product videos to his team, who have just launched the Planet 13 YouTube Channel. "Customers are loving the videos already," continues Shawn, "because they don't need to ask any questions, the videos show the item in action and up close."
Planet 13 pride themselves on giving their patrons excellent customer service, Shawn further remarks, "these videos are just an extension of our great service. By launching product videos on YouTube, our customers can properly see the items they're interested in without having to contact anybody for more information."
Shawn goes on to say that he's received positive customer feedback about the band merch videos as well as "a lot less email questions about the products, so that means customers are getting the information they need in one hit. And I'm not swamped with queries!"
A bit about Planet 13™
Planet 13™ was conceived and created in 2004 by Shawn Scott, front man of the once-popular Melbourne based glam/punk band Voodoo Lovecats. His online store Planet 13 features an extensive range of fully licensed entertainment items, band shirts and merchandise.