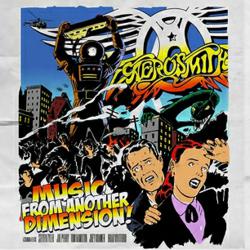 We hope to have the 'From Another Dimension' CD available soon after its release, but I doubt it'll stay in stock for very long
Melbourne, Victoria (PRWEB) October 22, 2012
The Rolling Stone recently announced that they'll be premiering Aerosmith's next album "From Another Dimension!" one track at a time, which will help build-up fan excitement. The latest song release "Oh Yeah" has created a major sales spike for band merchandise webstore Planet 13.
The band previously unveiled songs "Legendary Child" and "Lover Alot" in May and August, respectively, this year. The third reveal "Oh Yeah", a funky rock and roll song about love, was posted on Rollingstone.com on 18 October.
"It's great to see Aerosmith releasing their songs like this," says Shawn Scott, life-long musician and owner of band merchandise webstore Planet 13, "the anticipation from fans is mounting, and this latest song release created a major spike in our Aerosmith merchandise sales."
The album entitled "From Another Dimension!" will be the first release in 11 years from Aerosmith that's comprised completely of original material. The album is set to be officially released on 6 November 2012.
"With only a few weeks to go until the real release date," exclaims Shawn, "it's driving everyone crazy because they're dripping out songs here and there, and fans are dying hear the album in its entirety! I know their methodical teasing is the reason we've hit record high Aerosmith merch sales."
"From Another Dimension!" was originally supposed to be out on 28 August, but the band decided to push the release back to October because there were too many other bands unveiling albums at the same time.
"Even though I can understand why they held onto the album for a couple more months," remarks Shawn, "you can't deny that it's a great marketing move, too. First album of original content in 11 years, create a release date, release a song, delay the release date....it's putting fans on the edge of their seats."
"Aerosmith are legendary rockers and we're proud to support them," says Shawn, "I just hope we can keep up with the demand as each new song gets released."
Shawn finishes by adding that Planet 13 has supported big and small bands alike by only providing officially licensed rock tees and other merchandise, "Because I understand the music industry from the inside out, I'm proud to say Planet 13 only provides official merch. We hope to have the 'From Another Dimension' CD available soon after its release, but I doubt it'll stay in stock for very long!"
A bit about Planet 13™
Planet 13™ was conceived and created in 2004 by Shawn Scott, front man of the once-popular Melbourne-based glam/punk band Voodoo Lovecats. His online store Planet 13 features an extensive range of fully-licensed entertainment and music merch.