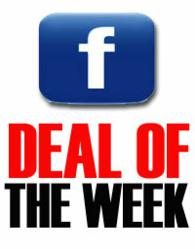 Our fans are already following us on Facebook and Twitter, so we thought, why not throw in some bonuses for them each week
Melbourne, Victoria (PRWEB) December 21, 2012
The Australian-based band shirt store Planet 13 are experiencing higher demand for products they feature in their "Deal of the Week" specials on Facebook. The music merch store recently launched this social media-based discount program and are experiencing great customer feedback. "We pick out various products to provide deep discounts on," says Shawn Scott, musician and owner of Planet 13, "and feature that item for seven days on our Facebook page. The response has been fantastic."
Operating for over eight years, Planet 13 are known for their excellent customer service. Whether it be their free return and exchange program or sourcing new products, they're constantly looking to improve their customer experience.
"Subscribers of our email list get updates and specials from time to time," says Shawn, "So, we thought it was time to reward our social media fans, too."
Just recently Planet 13 launched their "Deal of the Week" program on Facebook, whereby they select a specific product to apply a deep discount on. For example "this week, we've picked a popular iron-on patch," continues Shawn, "and have supplied our followers with a 50 percent discount code to apply if they want to take up the offer."
The ongoing markdown opportunity mimics popular discount sites like Groupon or Spreets. "We didn't want to go to an outside marketing company to give our customers a good deal," remarks Shawn, "which is why we decided to go ahead and do it ourselves, and social media seemed the best way to go about it. Our fans are already following us on Facebook and Twitter, so we thought, why not throw in some bonuses for them each week."
Shawn goes on to say that Planet 13 has already received great feedback from customers about the new program, and the items featured are in high demand. The popular music merch site will update their specials at the end of each seven-day period. "All people have to do to get access to these deals is to like us on Facebook, and then they'll never miss out on a bargain," says Shawn.
To Like Planet 13's Facebook page and find out more information about their "Deal of the Week," click here.
A bit about Planet 13™
Planet 13™ was conceived and created in 2004 by Shawn Scott, front man of the once-popular Melbourne-based glam/punk band Voodoo Lovecats. He prides his online merch store Planet 13 as featuring an extensive range of fully licensed entertainment items, band shirts and merchandise - all while providing the best customer service around.
# # #