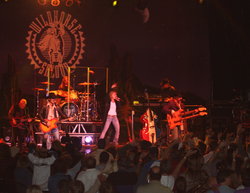 The Wildhorse Saloon house band is one of the best gigs in the country
Nashville, Tennessee (Vocus) March 20, 2009
The number-one dining and dancing destination in downtown Nashville, Tennessee, the Wildhorse Saloon (http://www.wildhorsesaloon.com), is looking to fill its top entertainment spot, and bands nationwide wanting to get noticed--and possibly get signed with a major recording label--in Music City are encouraged to audition. The world-famous Wildhorse Saloon has launched the World-Famous Wildhorse House Band Search Contest (http://www.wildhorsesaloon.com), and there's no better time for bands to prove their stuff and vie for this highly coveted top spot.
"The Wildhorse Saloon house band is one of the best gigs in the country," said Ron Kerere, general manager for the Wildhorse Saloon. "Not only for the opportunity to open for national acts and play in front of a live crowd every night, but the Wildhorse band gets prime exposure, right here in Music City. Any talented band interested in catapulting their career should definitely consider joining this nationwide search."
Star Judges. The World-Famous Wildhorse House Band Search Contest (http://www.wildhorsesaloon.com) kicks off with the first of several live auditions happening at the Wildhorse Saloon, located on historic Second Avenue in downtown Nashville, at 6 p.m., Wed., April 22, 2009. A panel of music industry judges will be on-hand to pick the winning band. Confirmed judges for this kick-off audition are Ira Dean, one of the founding members of country act Trick Pony; Michael Knox, producer for such recording artists as Jason Aldean, Cross Dixon and the Road Hammers; and Jeff Howard, talent agent for Agency of the Performing Arts. Four additional live auditions will happen May 6 and 19, 2009 and June 3 and 17, 2009, with the finalist competition scheduled for July 1, 2009.
Become Famous. The winning band will join the ranks of nationally known country acts Trick Pony, Ricochet and Lonestar, who all called the Wildhorse (http://www.wildhorsesaloon.com) home before being signed to major music labels in Nashville. Contest winners will get the opportunity to open for a major national act at the Wildhorse, will be put into the live entertainment rotation at the venue and will also receive a two-hour showcase to perform in front of record label representatives and other industry insiders. The band search contest is open to the public. In fact, it is the crowd who helps the judges choose the winning band, so, to help the judges' decision, bands should definitely bring their fans along.
The Goods. The judges of the World-Famous Wildhorse House Band Search Contest (http://www.wildhorsesaloon.com) will be looking for bands that can play a large repertoire of country and rock cover songs, plus an original selection, and that are energetic enough to get the crowd off their seats and onto the largest dance floor in town--line dancing, two-stepping and rocking to the great music. Each band will receive 20 minutes of audition time. Interested bands should send an electronic press kit to Kara Ryan at kryan(at)gaylordhotels.com. Rules, regulations and contest details can be found on the Wildhorse Saloon's web site: http://www.wildhorsesaloon.com.
Since opening in 1994, the Gaylord Entertainment-owned Wildhorse Saloon has played host to the top performing artists in all genres, including Alan Jackson, Foreigner, Bret Michaels, Sugarland, Ringo Starr, Rick Springfield and Craig Morgan. The club attracts more than 1.5 million music fans each year, creating one of the best atmospheres for bands to perform.
For more information on any of the features at the Wildhorse Saloon, please call 615-902-8211 or visit http://www.wildhorsesaloon.com.
# # #