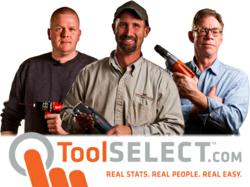 "Delta designed the bandsaw for serious woodworkers, so within our community we expect to see some detailed opinions from qualified experts."
Grand Rapids, MI (PRWEB) February 23, 2012
Bandsaw users, who are typically very particular about their preferences in a bandsaw, are gearing up to discuss the new Delta® 14", 1 HP steel-frame band saw, as well as Timber Wolf® band saw blades, within the ToolSelect community.
Delta® designed this particular bandsaw for serious woodworkers, noting a 1 HP, 115V/230V, 1-phase TEFC motor with two speeds (1,620 FPM and 3,340 FPM) and a heavy-duty steel frame to reduce flexing, topped with a heavy-duty trunnion table support.
In addition to the new bandsaw, Delta® announced a new line of band saw blades under the Timber Wolf® name. These blades are made of Swedish silicon steel, designed for long life with true tracking and no wandering.
"It's always fun to see tools designed for a specific audience in the system," says Tom Klein, vice president of marketing and merchandising with ToolSelect. "Delta designed the bandsaw for serious woodworkers, so within our community we expect to see some detailed opinions from qualified experts."
The blades are designed for use at lower tension, and the initial set released will include the PC Series (for kiln-dried wood), AS-S series (for straight-line veneer cutting), VPC Series (for straight-line re-sawing, kiln- and air-dried wood), HP Series (for detail work) and RK Series (also for detail work.
The new bandsaw and blades will be available in March.
About ToolSelect
ToolSelect is an unbiased community powered by its members that covers all aspects, types and brands of tools, but does not actually sell any tools. ToolSelect's members include everyone from experienced tradesmen to complete novices. Users trade tips, compare notes, debate their favorite tools and work together to help each other make intelligent purchasing decisions.
About DELTA®
Based in Anderson, South Carolina, DELTA® Power Equipment Corporation designs and manufactures stationary and benchtop woodworking machinery and dust management systems, and related accessories for professional woodworkers. DELTA® Power Equipment Corporation is a wholly-owned subsidiary of Chang Type Industrial Co. Ltd., a Taiwan-based manufacturing company (Taiwan Stock Exchange symbol: 1541.tw),
###