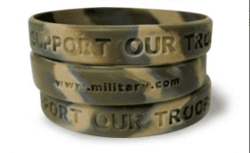 In an effort to align ourselves with like minded people, Bands for Freedom aligned itself with Military.com to pool our resources for greater support of the men and women in uniform past and present
Orem, Utah (PRWEB) January 17, 2012
Bands for Freedom Foundation Inc. announced today a strategic partnership with Military.com, the largest resource site for those who have answered the call to serve America and their families.
Bands for Freedom, the maker of the popular camo wristbands bearing the words "Support our Troops," have been a very popular symbol for those wanting to show their support for our troops the past seven years. Military.com will feature Bands for Freedom wristbands on their website and in some of their popular member newsletters.
The Bands for Freedom wristbands offer a simple yet powerful reminder of the service and sacrifices made each day to protect and preserve the American way of life. After covering the cost of manufacturing and administration, Bands for Freedom has pledged to donate 100% of its revenue to the Bands for Freedom Veterans Wellness Program and Stars for Stripes Foundation to aid service members past and present with PTSD. Monies donated to Stars for Stripes Foundation is used to take celebrity entertainment over seas to entertain our active military personnel.
"In an effort to align ourselves with like minded people, Bands for Freedom aligned itself with Military.com to pool our resources for greater support of the men and women in uniform past and present," said Steve Cloward, Director of marketing and sales. We are grateful for what our troops are doing in defending our freedom and fighting the war on terror, and we feel this is one of the ways we can show our thanks. "We must not forget our service personnel for their service and sacrifice, and want to be sure that we continue to raise the awareness of the American public of the continued sacrifices that are made each day." said Cloward.
Bands for Freedom Veterans Wellness program is focused on helping Veterans with PTSD by aligning itself with treatment centers and clinics nation wide. "We plan to launch the VWP later this month, so that those suffering from PTSD will have the opportunity to get the treatment needed for the many symptoms of PTSD, such as insomnia, anxiety, stress, anger, and drug abuse to name a few." said Cloward. Adding Military.com as a strategic partner will allow us to gain better exposure for the Bands for Freedom Veterans Wellness program and how it can help those Veterans in need. It is documented that 18 military Veterans commit suicide each day and all of us at Bands for Freedom are focused on making a difference in reducing that number.
For more information about Bands for Freedom, please visit Bands for Freedom.org or call us at 888-658-6669.
About Bands for Freedom Foundation, Inc.
Created in 2004, Bands for Freedom follows the lead of its predecessor, Freedom bands, Inc., Bands for Freedom has become an enormously popular supplier of patriotic silicone wristbands that come in red, white, blue, black and desert camo. The wristbands are marked with the words FREEDOM and SUPPORT OUR TROOPS, and are designed to aid Americans in making a respectful and unified statement in honor of the men and women of the armed forces past and present. After administrative and manufacturing cost, Bands for Freedom donates 100% of revenue toward its Veterans Wellness Program and Stars for Stripes Foundation.
About Military.com
Found in 1999, Military Advantage, Inc. owns and operates Military.com is the largest online military destination serving over 10 million members, including active duty personnel, reservists, guard members, retirees, veterans, family members, defense workers and those considering military careers. Military.com enables 30 plus million Americans with military affinity to access their benefits, advance their careers, enjoy military discounts, and stay connected for life. Military Advantage develops efficient affinity marketing and communications programs for government agencies and companies serving this market. Military.com is a subsidiary of Monster Worldwide, Inc. More information on the company is available online at military.com.
About Stars for Stripes
Stars for Stripes are a non-profit organization dedicated to providing quality celebrity entertainment to internationally deployed U.S. military forces.
Become a fan on facebook
Follow us on twitter
Media Contact:
Steve Cloward
888-658-6669 ext 1
###