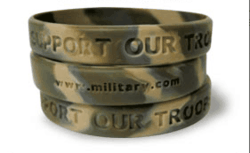 In an effort to align ourselves with people of like mind, Bands for Freedom teamed up with We Thank our Troops for greater support of our military men and women past and present during this weekends Veterans day parade in San Diego, CA.
Orem, Utah (PRWEB) November 08, 2011
Bands for Freedom Foundation, Inc. today announced a promotion with We Thank our Troops (WTOT) organization, to show support to our military Veterans at the upcoming Veterans Day parade in San Diego on 11-11-11 at 11 a.m.
Bands of Freedom, the maker of the popular "Support Our Troops" Camouflage Wristbands, was designed to specifically show support for our troops. San Diego County based Sycuan Casino has provided a 50 PAX Bus to be converted into a "Sycuan Casino Veterans Bus Float" replete with 40 foot Banners on either side of the Bus. The bus will be loaded with 50 Veterans who will join Bands for Freedom Foundation and We Thank Our Troops in passing out the wristbands to parade goers. Upon completion of the parade, the "Bus Float" will continue on Sycuan Casino with the 50 Veterans for a "free" Buffet Dinner. For more information about the parade please go to WTOT.org.
Marked with the word FREEDOM, the silicone wristbands offer a simple yet powerful reminder of the service and sacrifices made by our military personnel past and present to preserve the American way of life. After covering the cost of manufacturing and administration, the creators of Bands for Freedom donate 100 percent of its revenue to support our troops.
"In an effort to align ourselves with people of like mind, Bands for Freedom teamed up with WTOT to pool our resources for greater support of the men and women in uniform," said Steve Cloward director of sales and marketing for Bands for Freedom Foundation. "We are grateful for what our troops are doing and have done in defending freedom and fighting the war on terror, and we feel this is one way for us to show our thanks." said Cloward
To show your support for our troops and to help Bands for Freedom and WTOT give support financially, get your band for freedom today at bandsforfreedom.org.
About Bands For Freedom Foundation Incorporated
Created in 2004, Bands For Freedom follows the lead of its predecessor, Freedombands, Inc., and Bands for Freedom and has become an enormously popular supplier of patriotic silicone wristbands that come in red, white, blue, black and desert camouflage.The wristbands are marked with the words freedom, liberty, and Support our Troops and are designed to aid Americans in making a respectful and unified statement in honor of the men and women of the armed forces. Bands For Freedom donates all after-cost proceeds to Stars for Stripes the Armed Forces Relief Trust and We Thank our Troops.
About Stars for Stripes Foundation:
Stars for Stripes is a non-profit organization dedicated to providing quality celebrity entertainment to internationally deployed U.S. military forces.
About The Armed Forces Relief Trust
The Armed Forces Relief Trust is a unique non-profit fund created to collect donations for U.S. troops and their families. The AFRT raises money to support the men and women of the U.S. armed forces and their families and, unlike many other charitable organizations, distributes 100 percent of the money it raises among the five divisions of the U.S. military.
About We Thank our Troops
Throughout our nation's history the necessary sacrifices and burdens that afford us the freedoms to pursue prosperity have rested on the backs of our military. An unwelcome irony of this is, many of these troops can barely afford the goods and services we take for granted. In an effort to correct this and support our veteran and active duty military members -- In the Spring of 2005 We Thank Our Troops was founded.
Become a fan on facebook
Follow us on twitter
Media Contact:
Steve Cloward 888-658-6669 ext 1
# # #