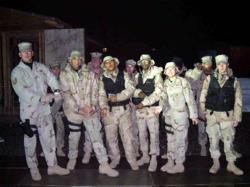 Bands for Freedom wants to help our wounded veterans with physical and unseen wounds from war, such as insomnia, depression, anxiety, etc.
Orem, Utah (PRWEB) December 06, 2011
Bands for Freedom Foundation today announces their upcoming January launch of The Veterans wellnes program. this program looks to target Veterans with physical and unseen wounds from war such as insomnia, anxiety, and depression.
The pilot operation for the launch of this National Veteran Wellness Program (VWP) is in the preliminary stages of being established in San Diego, California. San Diego is known as the home away from home for thousands of Marines and Sailors, and home to many thousands of Military Veterans and their families, Past and Present.
The launch will include (4) existing clinics centrally located that will add the treatment program for the above mentioned wounds. Bands for Freedom Foundation will announce a press conference, to be held in San Diego's Mission Valley at the beginning of the New Year.
Bands for Freedom will endeavor to raise the means to implement these programs by various fund raising projects i.e. appeal letters, the popular Bands for Freedom wristbands, staged events to include the production of myriad live performance events, dinners, black tie or dress casual, formatted to suit the proposed attendees, baseball Caps, T-Shirts and other BFF paraphernalia.as well as "Star Posters" of performers who have joined BFF's campaign to make a difference in past fund raising promotions for our nations heroic, Defenders of Freedom.
About Bands For Freedom Foundation
Created in 2004, Bands For Freedom follows the lead of its predecessor, Freedombands, Inc., and Bands for Freedom and has become an enormously popular supplier of patriotic silicone wristbands that come in red, white, blue, black and desert camouflage.The wristbands are marked with the words freedom, liberty, and Support our Troops and are designed to aid Americans in making a respectful and unified statement in honor of the men and women of the armed forces. Bands For Freedom will donate 50% of proceeds after cost of manufacturing and administration for the new Veterans Wellness Program and 50% to support Stars for Stripes Foundation.
About Stars for Stripes Foundation:
Stars for Stripes is a non-profit organization dedicated to providing quality celebrity entertainment to internationally deployed U.S. military forces.
Become a fan on facebook
Follow us on twitter
Media Contact:
Steve Cloward 888-658-6669 ext 1
# # #