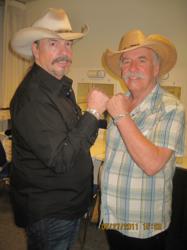 The Bellamy Brothers wear bands for freedom wristbands to show their support for our troops.
Orem, Utah (PRWEB) November 02, 2011
Bands For Freedom Foundation, Inc. today announced that it has gained the support of well-known country music celebrities The Bellamy Brothers in its efforts to raise funds for Stars for Stripes Foundation and the Armed Forces Relief Trust (AFRT). Funds donated to these organizations benefit the men and women of the U.S. military and their families.
The Bellamy Brothers are strong supporters of our military men and women and have shown their support by entertaining U.S. troops over seas with Stars for Stripes Foundation. The Bellamy Brothers added their names to the Bands For Freedom celebrities page an online list of supporters for U.S. troops via the Bands For Freedom Foundation. Please visit Bands for Freedom celebrities page to see all those past and present who support Bands for Freedom.
The new bands for freedom were created to bolster support for our troops who sacrifice for our freedom. To get the new bands for freedom wristbands go to bandsforfreedom.org today. To save 25% off your purchase, just use the discount code "support" when checking out. Bands for Freedom makes no claims about it's wristbands giving you more strength in your core, or better balance like many others claim, but Steve Cloward director of marketing and sales says "You will feel better about yourself wearing a band for freedom and we guarantee it."
About Bands for Freedom Foundation, Inc.
Created in 2004, Bands for Freedom follows the lead of its predecessor, Freedombands, Inc. and has become enormously popular supplier of patriot silicone wristbands that come in red, white, blue, black, and camouflage. The wristbands are marked with the words FREEDOM, LIBERTY, with its hologram bearing the words "Support our Troops." The new Bands for Freedom are designed to aid Americans in making a respectful and unified statement in honor of the men and women of the armed forces. Bands for Freedom donate all after-cost proceeds to the Armed Forces Relief Trust and Stars for Stripes Foundation.
About the Armed Forces Relief Trust:
The Armed Forces Relief Trust is a unique non-profit fund created to collect donations for U.S. troops and their families. The AFRT raises money to support the men and women of the U.S. armed forces and their families and unlike other charitable organizations, distributes 100 percent of the money it raises among the five divisions of the U.S. military.
About Stars for Stripes Foundation:
Stars for Stripes is a non-profit organization dedicated to providing quality celebrity entertainment to internationally deployed U.S. military forces.
Become a fan on facebook
Follow us on twitter
Media Contact:
Steve Cloward
888-658-6669 ext 1
# # #