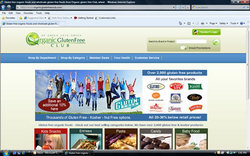 "We are thrilled with our new webstore program that makes it easier for people to setup and manage their own online organic food business" said Stuart Cutler, CEO of Bangalla. "Partnering with industry leaders our web stores offer a host of features inclu
Seattle, WA (PRWEB) February 15, 2011
Bangalla Organic has launched a new webstore program which allows consumers to set up their own fully featured online organic store backed by Bangalla's 100% drop ship service.
Featuring over 700 brands in over 125 product categories, Bangalla Organic offers grocery and gourmet, personal & baby care, supplements and hundreds of products for all types of organic webstores. With store size options from 100 hundred products up to 10,000 products, packed with online features and full drop ship service, Bangalla is simplifying the online organic experience while making an organic webstore very affordable.
"We are thrilled with our new webstore program that makes it easier for people to setup and manage their own online organic food business" said Stuart Cutler, CEO of Bangalla. "Partnering with industry leaders our web stores offer a host of features including social media networking, newsletters and affiliate functionality, full web support and full drop shipping on over 10,000 organic lines. Importantly, our webstore owners have full control over their web sites and can make immediate changes or add new organic products at will".
As part of its overall ecommerce initiative for e-retailers, Bangalla can also assist with international drop-shipping, general bulk and wholesale sales, web site development and online marketing services. Bangalla webstores involve no long term contracts, access to your own admin support area, and are available for entrepreneurs who want to get into the food business. Now anyone can own their own organic store!
For more information on Bangalla Organic please go online to http://www.bangalla or for wholesale trade/webstore/drop shipping enquires please go to http://www.bangalladistribution.com. Media and consumer enquiries may be addressed to info(at)bangalla(dot)com.
###