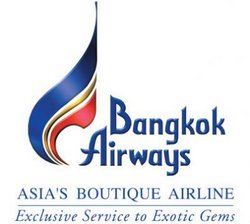 In our previous campaigns, Admax Network made it easy for us to reach many new members of our target audience to meet our campaign objectives
Bangkok, Thailand (PRWEB) August 6, 2009
Bangkok Airways recently launched the "FLYER PASS", the first prepaid sets of tickets designed to fulfil different lifestyles when it comes to hassle-free and value-for-money travel.
The FLYER PASS is divided into 4 smart packs: Fun, Fusion, Fancy and Freedom. Each set consists of 4 flight sectors selectable from the card's designated destinations at prices starting from all inclusive airfares of 9,000 Baht up to 29,000 Baht. The FLYER PASS is available at all Bangkok Airways offices and through travel agents and is easy to book online via http://www.bangkokair.com/FLYERPASS and through Bangkok Airways Call Center 1771.
To introduce the FLYER PASS and drive online sales, Bangkok Airways selected Admax Network as their primary digital media vendor. The company was chosen due to the breadth and depth of their ad network in Thailand that reaches more than 150 websites with an audience of 12.7 million people.
"In our previous campaigns, Admax Network made it easy for us to reach many new members of our target audience to meet our campaign objectives," commented M.L. Nandhika Varavarn, Vice President for Corporate Communications. "Based on those experiences, we were confident in choosing the company to introduce the FLYER PASS to Internet audience at worldwide level."
About Admax Network:
Admax Network, launched in 2006, is a subsidiary of Digital Marketing Solutions (DMS Group). It is the largest online advertising network in Southeast Asia with offices in Thailand, Malaysia, Singapore, Indonesia, Philippines and Vietnam. Admax Network combines over 1,200 of the top local and international websites, making it easy for advertisers to reach their target audience online, and helping publishers to maximize their revenues through a range of display advertising products. For more information, please visit http://www.admaxnetwork.com.
About Bangkok Airways Co., Ltd.
Bangkok Airways (http://www.bangkokair.com), with the ASIA'S BOUTIQUE AIRLINE slogan, is the first private airline established in Thailand since 1968. Taking off daily with about a hundred flights per day from Bangkok's Suvarnabhumi Airport, Bangkok Airways flies travelers from around the world to more than twenty exquisite destinations across Thailand and Asia. To name a few; Samui, Phuket, Krabi, Trat (Koh Chang), Maldives are amongst the hottest beach selections; whilst Sukhothai, Luang Prabang, Siem Reap (Angkor), and Hiroshima are of the world heritage personalities, each of which possesses her unique flair.
Bangkok Airways is the only airline in Asia that has won the Skytrax' Best Regional Airline for 6 consecutive years since 2004. As a member of the Pacific Asia Travel Association (PATA), Bangkok Airways continues to provide comfort at an uncompromised safety standard to all passengers towards the region's tourism sustainability.
###