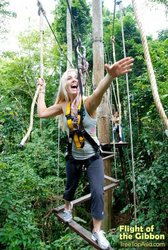 New York, NY (Vocus) January 30, 2010
The Go Gibbon Experience™ is a new kind of adventure tour. Imagine the "Ultimate Jungle Gym" where you can zip, fly, climb, crawl, and swing your way through an amazing, actual jungle play-ground! It's a great activity for the whole family or group. Situated close to Bangkok and Pattaya, Go Gibbon is brought to you by Thailand's premier Zip Line Tour, Flight of the Gibbon.
Flight of the Gibbon is no ordinary nature tour. Participants will be immersed in a primal, natural world of a pristine rainforest jungle canopy. New sounds, scents and colors will await …as you glide effortlessly on a secure heavy-duty zip-line from platform to platform. It's pure, accelerating fun – with a "thrill factor" that can't be matched anywhere on the planet. Flight of the Gibbon originated in the mountains in Chiang Mai, and still operated a highly successful, innovated zip line tour at that location. Due to demand and the success in Chiang Mai, they opened up a new zip line tour site in Chonburi, just outside of Bangkok and Pattaya last year. The new site has proven just as popular.
In addition to the Flight of the Gibbon Zip Line Tour, and unique to the Chonburi site, a completely new concept in jungle adventure, the Go Gibbon Experience™ is now available to the public. It has opened on October 5th - and increasing becomes a "go to" destination for jungle exploration with a huge amount of fun included.
Suspended bridges, Spider Nets, Tarzan Jumps, Flying-Fox, Flying Swings, and much more will deliver an educational, super-fun get-away. Better yet, Go Gibbon Experience has 65 exhilarating challenges available for all skill levels and ages. Visitors can pick the ones that fit their physical limits, endurance and sense of comfort.
The Flight of the Gibbon Zip Line Tour and Go Gibbon is nestled in the heart of one of the jewels of Thailand's natural treasures. On one side it is bordered by the 30,000 hectare Chompoo Wildlife Sanctuary, which is home to some of Thailand's most fascinating plant and animal life, and on the other side by the Khao Kheeo, a safari of lush jungle vistas – Thailand's only "free-exploration safari." Either tour includes free entry to the Khao Kheeo Open Safari, a great way to end your day.
The Go Gibbon Experience is becoming increasingly popular with both tourists and Thai's, and offers free pickup in Bangkok or Pattaya. Alternatively, people with their own transportation can drive themselves.
The tours provided by Go Gibbon Experience are of the highest standards, and customer safety is our first concern. They use only the highest rated, top-of-the-line equipment and all of the seasoned guides are thoroughly trained in zip-line instruction, first-aid and rainforest wilderness skills.
For more information on all Flight of the Gibbon Zip Line Tours, visit our website, or download the Flight of the Gibbon Magazine here
###