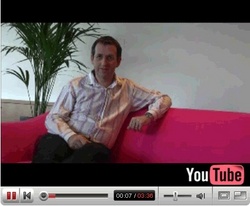 It's not the number of hits on your site that ultimately matters but whether they convert into value for the business
NEW YORK (PRWEB) May 11, 2008
With the Internet Advertising Bureau (IAB) reporting the need for "independent testing and scrutiny to build trust and confidence in mobile advertising", Bango aims to fill this gap with a service that provides hard data, free from any vendor bias. The new goal comparison feature helps marketers measure the return on investment for campaigns across different ad networks to make smarter buying decisions.
View the video of Ray Anderson explaining this new feature.
The Bango User ID technology offers a level of precision not found with other mobile analytics products by providing a reliable and persistent identity for every mobile user. It tracks real people as they enter a mobile website from different sources and reach a defined goal – such as click to call, buying content or downloading an application.
"It's not the number of hits on your site that ultimately matters but whether they convert into value for the business," said Ray Anderson, CEO of Bango. "Being able to measure ROI of your mobile advertising through accurate tracking can make the difference between success and failure."
"Businesses that aggregate traffic from a wide variety of sources and want an independent way of ensuring the traffic they receive is what they paid for, can use Bango Analytics as their trusted auditing tool," adds Anderson.
Bango Analytics operates as a hosted service, allowing mobile website owners anywhere in the world to connect their sites to the Analytics service in minutes and use it free of charge. Try it at http://www.bango.com/analytics.
About Bango
Bango delivers the technology that makes the mobile web simple for everyone. Bango created the world's first global exchange for the mobile web. By providing a common integration point for brands, businesses and individuals, Bango removes the complexities that make the mobile web difficult to exploit.
Through Bango's global exchange, content providers see all users as a unified global community. Users easily discover and access the widest range of content and the world's leading mobile operator's partner with Bango to give their subscribers the widest choice. Billing providers, search engines and advertisers are automatically connected to content providers in Bango's global exchange.
Bango has offices in USA, UK, Spain and Germany and is quoted on the London Stock Exchange (AIM:BGO). Learn more at http://www.bango.com
Keyword Tags: mobile advertising, mobile analytics, mobile marketing, mobile web analytics, mobile website
MULTIMEDIA GALLERY http://www.businesswire.com/cgi-bin/mmg.cgi?eid=5681668