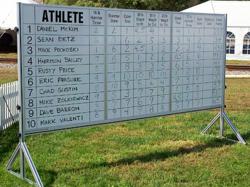 We like to donate supplies to schools and local groups in the Lehigh Valley
Nazareth, PA (PRWEB) September 12, 2012
Bangor Cork, a manufacturer of bulletin boards and supplier of cork rolls and sheets, is set to donate to the Celtic Cultural Alliance (CCA), an organization in Bethlehem, PA promoting and preserving Celtic culture through events and workshops, a custom scorekeeping whiteboard for their upcoming annual Celtic Classic National Highland Games. The local event, scheduled September 28th to September 30th in Historic Downtown Bethlehem, celebrates Celtic Culture through a series of contests and live entertainment.
"We like to donate supplies to schools and local groups in the Lehigh Valley," said Pete Raines, president of Bangor Cork. "This is our second year working with the CCA, and we plan on continuing to work with them in the future." The donation follows last year's success at the National Highland Games, where Bangor Cork's large custom whiteboard acted as the first ever scoreboard for the contests.
The custom double-sided whiteboard is 5' by 12', consisting of three folding pieces, making the board portable and easy to transport. The board's magnetic porcelain enamel steel surfaces provide a high quality writing plane on both sides of the whiteboard, while allowing posters and flyers to be displayed via magnets. The board's foam sandwich core, provides the whiteboard with strength while having a lightweight composition in comparison to its popular counterpart, particleboard.
The oversized whiteboard will be on display throughout the Highland Games, keeping track of the competitors' scores for individual contests. The Highland Games feature contests of strength, agility, speed, and overall athletic skill of the participants. Challenges requiring scorekeeping include the 16lb Hammer Throw, the Caber Toss, the Open Stone, the Sheaf Toss and more.
The Celtic Classic is a signature event held by the CCA, drawing crowds upwards of 250,000 people to the historic section of Bethlehem, PA. Beginning every year on the fourth Friday of September, the weekend festival includes various events, entertainment, and food celebrating Celtic culture. This year, featured events include the Haggis Eating Contest, Whiskey Tasting, the National Highland Games, the Junior Fiddle Competition, the Drum Major Competition, and the Pipe Bands.
Bangor Cork's custom whiteboard will provide a means for contestants and crowds to keep score of placement in the Highland Games, a concept new to the festival last year. "Traditionally, they never kept scores," said Raines, "so our whiteboard has allowed them to know who in fact is the winner of the individual contests and overall game."
Bangor Cork's whiteboards are available in a range of stock sizes or custom specifications. Available in aluminum or wooden frames, all Bangor Cork whiteboards consist of a magnetic, porcelain enamel steel writing surface, providing users with the longest available warranty. To learn more about Bangor Cork's whiteboards, visit http://www.bangorcork.com/Dry-Erase-Boards-s/27.htm .
About Celtic Cultural Alliance
The Celtic Cultural Alliance serves to preserve and promote the Celtic culture through education, musical presentations and traditional competitions in athletics, piping and dance. Incorporated in 1986 under the name Celtic Fest, Inc., Celtic Cultural Alliance celebrates the rich traditions of Celtic culture and heritage. To learn more about the CCA or the Celtic Classic, visit http://www.celticfest.org/
About Bangor Cork
Bangor Cork is a supplier and distributor of cork rolls and sheets, and a manufacturer of bulletin boards, whiteboards, and chalkboards. Located in Nazareth, PA, Bangor Cork supplies educational institutions, original equipment manufacturers, and furniture manufacturers with cork based products and raw cork materials. Since 1935, Bangor Cork has serviced schools, offices, churches, and other institutions with high quality materials and supplies, committed to providing excellence to customers. To learn more about Bangor Cork and products, visit http://www.bangorcork.com.