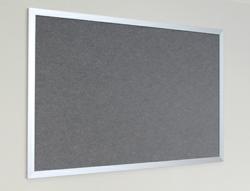 Customers like having a versatile surface that gives them different mounting options
Nazareth, PA (PRWEB) May 08, 2013
Bangor Cork, a manufacturer of bulletin boards and supplier of cork rolls and sheets, has announced today the introduction of new Velcro compatible tack boards to their bulletin board product line. Previously available through custom orders, the fabric covered Velcro compatible corkboards are now available in a standard product line on Bangor Cork's online store.
"We've seen a growing interest in the Velcro compatible corkboards we've been supplying," said Pete Raines, president of Bangor Cork. "Customers like having a versatile surface that gives them different mounting options." Users can mount materials to a Velcro compatible tack board using Velcro hook fasteners, such as pressure sensitive dots and tapes, or using traditional pushpins.
Bangor Cork's new Velcro compatible bulletin boards are available in several colors to accommodate different décors. A popular choice among schools, the new corkboards have a sound absorbing noise reduction coefficient of 0.15 and are post-consumer recycled products, manufactured using thermally activated polyester blend fabric.
Velcro compatible bulletin boards are available from Bangor Cork in aluminum or hardwood frames, which can be designed to meet custom dimensions. The corkboards are compatible for use with Velcro hook fasteners or pushpins to mount materials, and include mounting hardware upon order.
To learn more about Bangor Cork's line of Velcro compatible bulletin boards and other cork related products, call Bangor Cork at (610) 759-0320 or visit the company's website and online store at http://www.bangorcork.com/default.asp.
About Bangor Cork
Bangor Cork is a supplier and distributor of cork rolls and sheets, and a manufacturer of bulletin boards, whiteboards, and chalkboards. Located in Nazareth, PA, Bangor Cork supplies educational institutions, original equipment manufacturers, and furniture manufacturers with cork based products and raw cork materials. Since 1935, Bangor Cork has serviced schools, offices, churches, and other institutions with high quality materials and supplies, committed to providing excellence to customers.