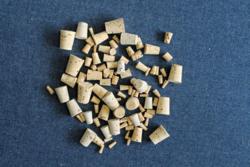 We want to supply our hobbyists and crafters with the largest product selection possible for their creative projects.
Nazareth, Pa. (PRWEB) December 05, 2012
Bangor Cork, a supplier of cork rolls, sheets, and home products, has announced today the addition of cork stoppers to the company's product line. Traditionally selling a cork collection of solely rolls and sheets, the bulletin board manufacturer widened its cork line to include X/XX standard grade tapered cork stoppers in order to meet the demands of a growing crafter market.
"We've received cork stopper requests from people looking to create their own trivets, bulletin boards, homemade wine making, and other crafts," said Pete Raines, President of Bangor Cork. "And we want to supply our hobbyists and crafters with the largest product selection possible for their creative projects." According to the Craft and Hobby Association (CHA), an established craft industry presence responsible for conducting market and consumer reports, the craft and hobby market has recently grown into a $30 billion industry in response to the current economic recession.
Home décor craft supplies constitute nearly $1 billion of craft sales among consumers, with consumers seeking affordable alternatives to paying for home decorations or family entertainment. Bangor Cork's addition of corks to the product line aims to fulfill this growing market of crafts, with buyers increasingly creating home and personal items ranging from their own unique bulletin boards, to picture frames, to jewelry. The introduction of cork stoppers is also ideal for homemade wine bottling, offered singularly or in bulk for larger wine production.
Bangor Cork carries a large stock of corks, with X/XX standard grade tapered cork measurements ranging from size 0000 to size 20. The cork supplier allows flexibility in ordering, offering buyers an option to purchase corks individually or in bulk at a competitive price. The company also offers a grab-bag option, consisting of 100 mixed corks varying in size. "We've added corks with a wide range of sizing, allowing flexibility in project types in addition to unique, distinctive final products," said Raines.
Standard tapered corks are now available through Bangor Cork in sizes ranging from 0000 to 20. To find out more about Bangor Cork's supply of X/XX grade standard cork stoppers, visit the company's online store at http://www.bangorcork.com/category-s/132.htm or call 610-759-0320.
About Bangor Cork
Bangor Cork is a supplier and distributor of cork rolls and sheets, and a manufacturer of bulletin boards, whiteboards, and chalkboards. Located in Nazareth, PA, Bangor Cork supplies educational institutions, original equipment manufacturers, and furniture manufacturers with cork based products and raw cork materials. Since 1935, Bangor Cork has serviced schools, offices, churches, and other institutions with high quality materials and supplies, committed to providing excellence to customers. To learn more about Bangor Cork and products, visit http://www.bangorcork.com.