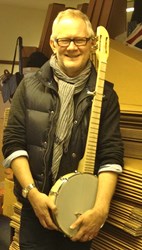 The Great British Banjo Company is en route to becoming a multi-faceted musical brand with a strong made-in-Britain theme.
(PRWEB UK) 9 January 2014
Britain's only banjo manufacturer, The Great British Banjo Company, has been identified as one of the 'Future 50' most exciting businesses in the east of England, by the UK's largest daily newspaper.
The Great British Banjo Company, which has established a global profile as the creator of first volume production banjo in the UK for more than 60 years, was named by the Eastern Daily Press as one of only 25 companies to join the elite cohort of businesses in the 2013-14 intake.
The 'Future 50' scheme was established by the newspaper three years ago to encourage and celebrate new businesses displaying evidence of passion, innovation and real commercial potential.
The Eastern Daily Press business editor Shaun Lowthorpe commented: "Future 50 celebrates those prepared to test their ideas and take a risk."
Last year the banjo company initiated a Kickstarter campaign which became one of the top 2% most successful in the platform's history. The crowdfunding campaign enabled development of the company's Shackleton Banjo and generated 150 advance orders for the product.
The company will deliver its first Shackleton Banjos to customers next month, and will introduce further models in 2014, including a limited edition Centenary Shackleton banjo marking the 100th anniversary of the start of Shackleton's Endurance expedition.
There are also plans for a unique high-tech E100 Shackleton, one of which will be taken to the South Pole as part of the Imperial Trans-Antarctic Centenary Expedition which will be walking right across the continent on Shackleton's planned but never-completed route.
Company Information
The Great British Banjo Company is a privately owned company based in Norwich, Norfolk, UK.
Website: http://www.thegreatbritishbanjocompany.com
Tel: 01603 305800