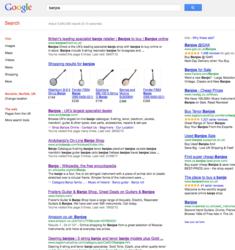 We have worked very hard to have the brightest, most appealing and easiest to navigate banjo site on the web, created from the ground up to be easy for customers to use
(PRWEB UK) 11 July 2012
It takes hard work and a really strong offering to reach the front page of Google for a generic search term, but a banjo shop founded in December last year has achieved the coveted front page spot for the term 'banjos', joining competitors who have been in business for twenty years and more.
The firm, UK-based Banjos Direct, has rapidly climbed the search engine rankings and expanded its customer base and sales, since its launch in December 2011.
Founder and CEO Simon Middleton puts the success down to three factors:
"First is that we just have a fantastic customer offering with a wide range of superb quality banjos from brands like Goldtone, Nechville, Ozark, Recording King, Tanglewood, and Pilgrim, all set up in our workshop.
"Second is the fact that we have worked very hard to have the brightest, most appealing and easiest to navigate banjo site on the web, created from the ground up to be easy for customers to use.
"And third is our passion for helping beginners to get into the banjo, as well as for supporting experienced players, and our involvement in the banjo community through a variety of sponsorship activities for example," added Middleton.
"Some people think success on Google demands some kind of 'black ops' techniques, but that's not true," says Middleton.
"Professionalism and authenticity are the keys to success, along with a real clarity of purpose. We are a banjo specialist which is why the search engines can easily identify what we do and the integrity of our content."
Banjos Direct has become the UK and Europe's largest online banjo specialist shop from a standing start in less than a year. The firm recently announced its first steps into banjo production, with the launch of the Islander OB-01 banjo handmade in the UK. The company is now seeking major investment funding to take its brand success onto the global stage.
Company information:
Banjos Direct is the UK's fastest-growing specialist banjo retailer, leading the renaissance of interest in the banjo amongst players of every age and background. The Norwich-based company is the UK's leading stockist of USA brands GoldTone and Nechville, and also stocks instruments by Barnes & Mullins, Pilgrim, Ozark and Tanglewood.
Founder and CEO of Banjos Direct, Simon Middleton, is frontman of English-Americana band The Proposition, whose debut album 'King Snake Devil Shake' was released this year. Middleton is also the author of several books on marketing and branding, including 'Build A Brand In 30 Days' and the new guide to personal reinvention 'Brand New You'.
Find Banjos Direct at http://www.banjosdirect.co.uk
Email: info(at)banjosdirect.co(dot)uk
Phone: +44 (0) 1603 305800