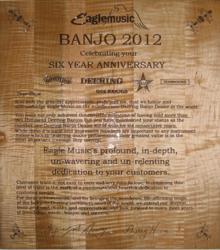 When you consider that Deering are the largest banjo manufacturer in the world, having over 350 Dealerships throughout America and the rest of the world, it puts it into perspective what our UK business has achieved in the world of banjos
Huddersfield, West Yorkshire (PRWEB UK) 18 February 2013
Banjo specialists Eagle Music Shop have received an award for the sixth year running from The Deering Banjo Company. Having officially sold over two thousand Deering Banjos, more than any other retailer worldwide, Eagle have set a benchmark within the traditional music retail industry. The award is also in recognition of Eagle's unrelenting dedication to customer service.
Founder of Eagle Music Shop and seasoned musician Steve Noon stated: "When you consider that Deering are the largest banjo manufacturer in the world, having over 350 Dealerships throughout America and the rest of the world, it puts it into perspective what our UK business has achieved in the world of banjos".
The award was presented in person by Greg & Janet Deering at the Eagle Music Shop's banjo event in November 2012 and took the form of a beautiful plaque, made by Greg Deering himself, it is carved from solid maple and is now hanging proudly in the main showroom the Eagle Music Shop banjo shop.
"It is with the greatest appreciation, pride and joy, that we honour and acknowledge Eagle Music as the number one Deering Banjo Dealer in the world. You have not only achieved the enviable milestone of having sold more than two thousand Deering Banjos but you have maintained your status as the number one Deering Banjos Dealer world wide for six consecutive years." Quoted Janet Deering, ceo of The Deering Banjo company.
The Eagle Music Shop Banjo 2012 event held host to over 200 banjo enthusiasts. Guitar and banjo workshops featured throughout the day plus an evening performance by the world renowned Kruger Brothers. This was the 6th event of its kind since Eagle first became the world's official number 1 Deering Master Dealership in 2007.
"It is a pleasure to work with the Deering Banjo Company as they share the drive and enthusiasm of bringing the wonderful world of banjo to the masses, we're pleased to have played a key role in the rise in popularity of the banjo in recent years" states Steve.
"How did we become the world's biggest banjo retailer? A question I'm often asked and prompted me to write the story of Eagle Music's brand journey with Deering which is now available on our blog. At Eagle Music Shop we don't just sell things, we look after our customers, all of them. We have a genuine passion for banjos" explains the business owner and banjo player.
Eagle Music Shop is a family run business located in Armitage Bridge, Huddersfield. It offers several showrooms of musical instruments including banjos, guitars, mandolins, ukuleles, harmonicas and many other folk instruments. It's customer base is worldwide thanks to its benchmark ecommerce website, built by fellow partner and son, entrepreneur James Noon. Alongside their close relationship with Deering, Eagle are also main UK dealers for Gold Tone, Nechville, Ome, Ozark, Prucha, Stelling, Recording King and Tanglewood, proud to be the UK's leading Tanglewood independent dealership.
Steve Noon has played a key role in the design and development of several banjo models, including the Deering Goodtime Leader banjos plus several Tanglewood models.
Company Information:
Eagle Music Shop is the unrivalled leading UK banjo and traditional instrument retailer, with sales levels and customer service ratings that are higher than any other banjo specialist, a statement backed up by fact. Their inimitable expertise and passion for banjos has seen an enviable rise to success through organic growth as opposed to financial injection.
Eagle continue to bring the joy of the banjo to novice players through to accomplished professionals.
For Deering, Gold Tone, Nechville and more banjos see http://www.eaglemusicshop.com
Contact:
enquiries[at]eaglemusicshop[dot]com
Phone: +44 (0)1484 661460
Eagle Music Shop
1 St Pauls House
Brooke's Mill
Armitage Bridge
Huddersfield
West Yorkshire
HD4 7NR, UK