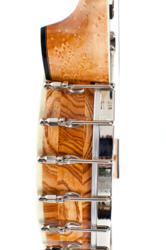 Let me say that I would be hard pressed to find a finer instrument.
Norwich, Norfolk, United Kingdom (PRWEB UK) 22 May 2013
British banjo maker Banjos Direct has announced that expert banjoist Bob Minner, who plays banjo and acoustic guitar for country star Tim McGraw, has become an endorser of the company's first production banjo, the Islander Ash Leaf.
The endorsement agreement will see Minner playing the British-made Islander Ash Leaf on a new solo clawhammer album.
The British banjo retailer Banjos Direct took the step into manufacturing after less than a year of selling imported banjos. Now their first production instrument, the Islander Ash Leaf, is winning plaudits from some of the USA's best banjo players.
Dan Levenson, the legendary clawhammer player and teacher, reviewed the Islander banjo in the enthusiast magazine Banjo Newsletter.
Levenson wrote: "Well, it's not everyday someone from England offers to send you a banjo for review. I mean you have to be pretty confident of your banjo to be willing to put it up for public criticism. And, going right in, I'll say the confidence is well placed. This is a nice banjo!"
He added: "The Islander has an 11" pot but upon playing it the first time I had to look again. I almost got my measuring tape out because for an 11" banjo it sure sounded a lot like a 12"er! That impressed me right off the bat. Could that be the Ash wood that this pot is made from? I'm not sure but whatever it is, it's a welcome surprise."
Following the great review from Dan Levenson the head of Banjos Direct received a message from another US-based player, Bob Minner, who plays banjo and guitar for the Nashville country star Tim McGraw.
Founder and MD of Banjos Direct, Simon Middleton, explained: "Bob contacted us via another company in the industry. He had read about the 'Brit' banjo and heard that it was really good. He was keen to find a distinctive and high quality openback to play on his forthcoming solo clawhammer album."
Happily, once Bob Minner had got hold of the Islander he was just as impressed as he had hoped to be, and was keen to endorse the British instrument.
Bob Minner said: "Let me say that I would be hard pressed to find a finer instrument. The attention to detail is simply wonderful in every regard, and the tone is all anyone could ask for in an open back banjo. I particularly love the full thick neck profile, reminiscent of the great banjos of yesteryear. The ash block rim is also tonally exceptional. I am eager to start recording with it. A stellar instrument."
Simon Middleton said the company was delighted with the praise and very excited that their first production instrument was causing a stir.
The company, based in Norwich, Norfolk, UK, has plans for an expanded range of British-made instruments and says there will be announcements in the next few weeks.
COMPANY INFORMATION:
Banjos Direct is based at the manufacturing innovation campus Hethel Engineering Centre just outside of Norwich, Norfolk, UK.
The privately owned business was launched in 2011 by business author and musician Simon Middleton and has grown rapidly to become the UK's best known banjo specialist retailer.
The Islander is designed by Simon Middleton and the acclaimed banjo maker Malcolm McLeod, who is head of production for Banjos Direct.
For further information visit: http://www.banjosdirect.co.uk.