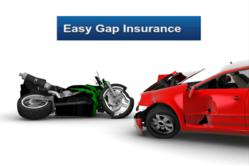 The choice of Gap Insurance can be different if you have a personal loan instead of dealer finance
Wirral, UK (PRWEB UK) 22 September 2012
When a vehicle is purchased in the UK it is often with the aide of a funding agreement of some kind. There are a variety of options for consumers seeking to get a loan for the purchase, and this in turn has seen a raise in customers looking to protect themselves with a form of Guaranteed Asset Protection.
There can be a range of products available, and the experts at Easy Gap have released a guide for those looking into the aspects of funding. In particular, the guide explains the different protection available if you use a bank loan instead of dealer finance. It is an area that can cause some confusion to prospective car buyers, as a spokesperson for Easy Gap explained.
"Millions of vehicles are purchased in the UK each year, and many with a form of financial arrangement from the consumer. There are a range of finance packages available from motor dealers, from hire purchase to personal contract purchase, from lease purchase to contract hire. One other form that is particularly popular is a low rate loan from a direct lender, such as a bank. However, bank loans are slightly different in that they are not tied to the vehicle in any way normally, and this means the choice of GAP Insurance for the purchaser can be different. This is something we have sought to clarify in our guide.
Basically, when the funding is not linked to the vehicle purchase, then the option of a finance gap policy may not be relevant. To the motor dealer the purchase is basically a 'cash' sale, and this will be reflected on the sales invoice. So customers buying through bank funding may be best to look to Return to Invoice or Vehicle Replacement style cover."
The company added that the guide is now available on the EasyGap.co.uk website, and is part of an ongoing commitment to improve the availability of information to its customers, as the spokesperson continued.
"We do understand that Gap Insurance can be a confusing concept for may consumers who are new to it. Our Easy Gap website is constantly updated with new information, normally in direct response to a customer query.
We have had positive feedback with the information we provide, and in turn we have seen an increase in sales in 2012. Indeed this year has been a record breaking year for Easy Gap, and we believe this is in no small part to the information we provide."
Easy Gap is one of the leading Gap Insurance brands provided by Aequitas Automotive Ltd, and was featured in the Which Report on Guaranteed Asset Protection in 2012.