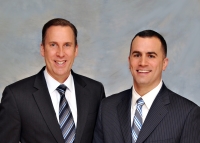 Cash incentive programs like these are a proactive approach to assist struggling homeowners do a short sale before their homes go into foreclosure
Waltham, MA (PRWEB) May 17, 2012
McGeough Lamacchia Realty has successfully negotiated a $10,000 cash incentive from Bank of America for their client to do a short sale. John McGeough and Anthony Lamacchia, co-brokers and owners of McGeough Lamacchia Realty, believe Bank of America's cash for short sales program will help more distressed homeowners avoid foreclosure.
"This is an example of another big bank that is finally realizing that short sales are far better than foreclosures for struggling homeowners," says Anthony Lamacchia.
For a limited time, homeowners who have loans owned and serviced by Bank of America may be eligible for a new program that offers them relocation assistance between $2,500 and $30,000 if they sell their home through a short sale. The new program is designed to help homeowners who are struggling to make their mortgage payments avoid foreclosure by doing a short sale of their home. In a short sale, the homeowners agree to sell their home for less than what they owe on the mortgage. In these cases where the homeowner receives a cash incentive, the deficiency balance is forgiven.
"Cash incentive programs like these are a proactive approach to assist struggling homeowners do a short sale before their homes go into foreclosure," says John McGeough.
McGeough Lamacchia Realty has negotiated large short sale cash incentives before. For instance, in November 2011 McGeough Lamacchia Realty and Dorner Law negotiated a $35,000 payment from Chase Bank to their short sale client at closing and have since negotiated many more large cash incentives. Last month, McGeough Lamacchia Realty had 36 percent of their short sales close with relocation assistance. So far this year, 29 percent of their short sales have closed with relocation assistance. The average cash incentive for short sales for their clients is $2,932.05.
Foreclosures have a serious negative impact on neighborhoods. Foreclosed homes are often left in disrepair and bring down the home values in the surrounding neighborhood. With a short sale, homeowners stay in the homes until they're sold, so the homes are in much better condition than foreclosed homes. Foreclosures are also devastating for families. A foreclosure has a negative impact on the homeowner's credit score and it delays their ability to purchase a home again for up to 7 years. Many homeowners don't realize that after a foreclosure banks will continue to pursue them for the mortgage deficiency.
The cash for short sales program allows banks to avoid paying legal fees associated with foreclosure and by selling the home banks avoid paying the taxes and maintenance costs that come with the property.
McGeough Lamacchia Realty encourages homeowners struggling to pay their mortgages to do a short sale on their home and believe this new cash incentive for short sales will help more of them transition from their homes and move on with their lives.
About McGeough Lamacchia Realty:
McGeough Lamacchia Realty is the number one Real Estate Agency in Massachusetts and named one of the Top 100 Real Estate Teams by the Wall Street Journal in 2010. They are a full service real estate agency specializing in short sales serving Massachusetts and New Hampshire.
For more information about the Bank of America short sale cash incentive program, visit the Short Sale New England Blog