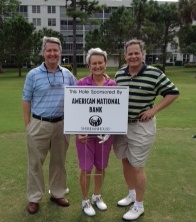 Fort Lauderdale, Florida (PRWEB) November 07, 2011
The 29th Annual Sheridan House Golf Tournament was held Thursday, November 3rd at the Palm-Aire Country Club. American National Bank was a Corporate Sponsor for the golf tournament that benefits Sheridan House Family Ministries. American National Bank client Bill Carlson of Harbor Village Cleaners joined ANB President and CEO, Ginger Martin, ANB EVP/COO/CFO, Moyle Fritz, and ANB SVP/Senior Lender, Rob McCracken on the links for a great afternoon of golf and fundraising for a great cause.
Sheridan House was established In 1968 as a home for boys with behavioral issues. Since then, the Sheridan House Residential Program has grown from one home caring for 8 boys to five homes caring for almost 70 middle-school aged boys and girls each year. Additionally, over the last 40 years, their vision has expanded dramatically. They created a social services division for single parents who are experiencing a serious short term economic need. Annually, they provide over 400 single mothers with food, basic living resources, automobiles, and individualized and intensive training sessions in areas such as: finance, parenting, resume preparation and interviewing skills, meal planning on a budget, appropriate dress and more. For more information on Sheridan House go to http://bit.ly/vzJBEf.
About American National Bank
American National Bank is South Florida's premier community bank. With over $200 million in assets, ANB has been serving small business owners, doctors, lawyers, accountants, and other professionals since 1985. For more information visit https://www.americannationalbank.com or follow them on Twitter or Facebook.
###