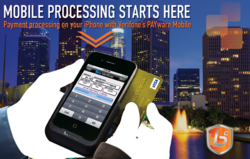 City of Industry, CA (PRWEB) February 29, 2012
Accepting credit cards and debit cards is what most businesses do with a terminal or an online payment gateway. This type of processing is observed by customers for all types of products they may purchase. But recently, more and more customers are swiping their cards with mobile smartphone card readers. Mobile processing readers and other smartphone attachments are becoming more commonplace, especially with mobile businesses like taxis in New York or food trucks in Los Angeles. Companies and merchants that sell goods in a mobile environment are learning the convenience of carrying mobile processing devices like the Square reader or VeriFone PAYware mobile reader.
PAYware software works with iPhone and Android smartphones. iPhone users benefit from the PAYware mobile reader that fits the iPhone 4S, 4, 3GS and 3G versions for encrypted card payments. With this reader, merchants enjoy the card-present processing rates which are typically lower than keyed-in transactions rates. Transactions are tracked using PAYware's free app, receipts are emailed to customers and geo-tagged for added security. This makes receipts and transaction tracking much easier for merchants, allowing them to avoid the paper clutter. PCI-DSS compliance – a requirement for all merchants to follow industry prescribed security standards – is built right into the PAYware mobile reader by way of data encryption. Each transaction is encrypted and card-holder data remains secure. This added protection ensures merchants a safe processing environment and compliance with industry regulations.
In an effort to make mobile payment processing affordable for more merchants, bankcard club is giving new merchants a PAYware mobile reader to new merchants. If for any reason a new merchant decides to close their account, they keep the reader no strings attached and used with any other processor.
About bankcard club:
bankcard club (all lower case) is a registered merchant services provider/independent sales organization of Elavon, Inc. Backed by over 15 years of experience, bankcard club offers competitive pricing on merchant accounts and credit card processing for all types of businesses. Learn more about merchant services at bankcardclub.com.
# # #