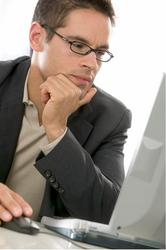 My job is hard. The time I have with [my lover] is 'Me Time'. I work bl***dy hard, I want to be able play hard too!
London, UK (PRWeb UK) December 3, 2009
An extra-marital dating site in the UK has compiled a Top Ten of the main reasons bankers choose to have extra-marital affairs.
IllicitEncounters.com, which has over 380,000 members UK-wide, surveyed over 600 men and women to compile the list.
Following the collapse of the markets in October last year, the site saw a huge increase in the numbers of financial workers signing up. Since October 2008, 'Finance' has continued to be one of the most represented professional areas on the site.
The Top Ten was created by analysing the responses of 639 bankers, who were asked the question, "What were the three main reasons you decided to pursue an extra-marital relationship?". The 10 most common themes are illustrated below.
Ranking Reason
(1st) To Feel Loved - Bankers have become Public Enemy No. 1 since the credit crunch hit, so are seeking out some overdue affection.
Sample Quote - "My husband cares for me but he doesn't touch or cuddle me anymore. My lover simply make me feel loved" - Member 3*2672
(2nd) For The Thrill : Professioanlly, bankers enjoy a good thrill - risk is part of their job. Many said they were simply looking for a real thrill.
Sample Quote - "I adore the risk - the secret meetings, the stolen kisses" - Member 4287*
(3rd) Unstable Home Life - Unsociable hours and long journeys into the city mean Bankers spend much time away from home; the lifestyle doesn't promote a healthy relationship.
Sample Quote - "We both work too hard. We never see each other. I still love her, but the spark has died out" - Member 256**4
(4th) To Escape The Mundane - Fantasy and romanticism play a large role in most people's extra-marital relations.
Sample Quote - "My lover takes me to a different world. No bills, no chores, no responsibility" - Member 6*754
(5th) To Boost Their Ego - This was a common response amongst male members.
Sample Quote - "[Taking a mistress] certainly has boosted my confidence." - Members 18*359
(6th) To Avoid Costly Divorce - Many members saw an affair as a way of simply avoiding an expensive divorce.
Sample Quote - "My wife and I both open about our affairs. Neither of us want to divorce - not least because of the cost" - Member 3*6453
(7th) To Lavish - Bankers want to find someone they can spend all their hard-earned money on.
Sample Quote - "I like nothing more than having someone to spoil." - Member 7*63
(8th) Because They Feel Entitled - Long hours, high stakes and tough decisions make banking one of the most stressful professions out their. Some members see their affair as a reward for their hard work.
Sample Quote - "My job is hard. The time I have with [my lover] is 'Me Time'. I work bl***dy hard, I want to be able play hard too!" - Member 24*442
(9th) Because They Can - Opportunity certainly plays a role. Late nights at the office and evenings out drinking provide more chances to cheat.
Sample Quote - "My first affair was with my secretary. The excuses wrote themselves" - Member 198**3
(10th) Peer Pressure - Affairs are common in the city, and, especially for male bankers, taking a mistress can be somewhat of a status symbol.
Sample Quote - "Where I work, many of the top dogs are open about their affairs. Having a mistress is like having a flash car." - Member 23*56
"We were suprised at the honesty of some responses", says Sara Hartley, representative from IllicitEncounters. "It seems that the theme of comodification transfers from banker's professional lives to their personal ones - many male respondants regarded their mistress as just another status symbol."
"Having said that, the majority also claimed they felt unloved or neglected by their partners, and many felt they had tried all they could to rectify the situation. It doesn't help that many bankers work in cities, and often have to commute for long periods of time. The more time they spend away from home, the less time they have to rekindle that spark."
The site now has in excess of 20,000 members who work in 'Financial Services'.
About IllicitEncounters.co.uk:
Illicit Encounters is the UK's longest running extra-marital dating site. It was started in 2003, beginning as a small agency with only a handful of members, but since its creation, has grown at a phenomenal rate. We now have over 380,000 members in the UK.
The aim of the site is to create a safe and nonjudgmental environment, where married men and women can meet each other. Illicit Encounters is a profile-based website, where each member has a personalised space stating who they are, what they're looking for and their interests. Users can talk freely on our new-improved chat system, or send each other messages through our internal mailing system.
The average Illicit Encounters member is a professional, often working in management or as an executive, and between the ages of 36 and 40. We have the most balanced ratio of men to women online than any other dating site.
For More Information
If you would like more information about Illicit Encounters please contact Rosie Freeman-Jones at presspr (at) illicitencounters.co.uk or call 02088199936. Illicit Encounters has a wealth of statitics on infidelity and related subjects, as well as many strong female and male case studies, available to talk candidly about their experiences.
###