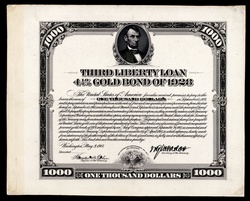 To be able to study this archival treasure trove of material from American Bank Note has been a dream come true. I am thrilled to be able to offer, with H.R.Harmer, another amazing selection of rare and unique items from this storied archive that will delight the beginning collector to the serious specialist
NEW YORK (PRWEB) October 9, 2007
The banknotes, stamps, stocks and bonds included in this auction represent tangible evidence of the dynamic financial history of the United States and the world. Dr. Robert Schwartz, President of Archives International, "To be able to study this archival treasure trove of material from American Bank Note has been a dream come true. I am thrilled to be able to offer, with H.R.Harmer, another amazing selection of rare and unique items from this storied archive that will delight the beginning collector to the serious specialist".
There are 1138 lots of rare Scripophily, the hobby's name for collecting old stocks and bonds. Categories include railroads, mining, zoos, autos, entertainment, sports, banking, internet and other topics.
Many exciting items never seen before in auction are offered for the first time including:
-- Over 50 lots of Stocks and Bonds of well known Wall Street firms and corporate legends including Goldman Sachs; Berkshire Hathaway; J.P.Morgan; Sears, Roebuck; Wells Fargo; E.F.Hutton; Citigroup and Coca-Cola.
-- Over 300 different railroad and 190 mining stock and bond specimens including the largest group of Western states railroads to come to market in many years.
-- Scam and Scandal stocks and bonds from Adelphia Communications, Crazy Eddy and World com.
-- The unique printing plate for the Philadelphia Zoological Society certificate as well as 3 other rare and popular "zoo" certificates.
-- 50 lots of rare automobile and aviation certificates including a Dodge Brothers, Inc specimen bond.
There are 1,290+ lots of rare banknote proofs, specimens, banknote printing plates, vignettes and production material from Mexico, Colombia, China, Taiwan, Canada, Argentina, Nicaragua, Dominican Republic, Venezuela, Russia, U.S., South America and numerous other locations. Vignettes are small artistic engravings used on banknotes, stocks, bonds and security printed documents.
All of the collectible certificate specimens have been cancelled and have no intrinsic value other than as a collectible due to their historic or artistic merits.
The auction will take place at H.R.Harmer, Inc. in Bethel, Connecticut on October 17,18 & 19, 2007. H.R. Harmer is well known for selling Franklin D. Roosevelt's stamp collection in 1946 as well as other famous name philatelic holdings over the last 50 years. Archives International, LLC, has been active as a numismatic and philatelic company for over 20 years and is actively buying, selling and consulting in the fields of historical documents, paper money, stocks and bonds, stamps and security printing ephemera.
For more information on this auction visit http://www.abnharmerauctions.com or http://www.hrharmer.com. This sale will also be available on eBay Live.