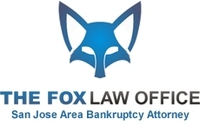 In these challenging economic times, bankruptcy attorneys have a lot of opportunities to help.
Los Gatos, CA (PRWEB) July 28, 2010
Not too long ago, Santa Clara Valley was commonly known as The Valley of Heart's Delight. Valley residents enjoy mild temperatures most of the year and are surrounded by the beauty of the Santa Cruz Mountains and the Diablo Range. In the face of such natural splendor, it is easy to forget sometimes that many of its residents and families are struggling to get by during these extremely challenging economic times.
That is why The Fox Law Office, a San Jose area bankruptcy law firm, has announced a program to provide pro bono services to area residents who need such services the most but are least able to pay.
"A meaningful law practice is more than appearing in court for our clients or filling out forms. By its nature, bankruptcy practice presents a lot of opportunities to help," said John Fox, bankruptcy attorney at The Fox Law Office.
The statistics that give rise to the program are daunting. Santa Clara County's June unemployment rate remained stubbornly high at 11.4%. One in every 315 homes in the county received a foreclosure notice last month. Among companies that have avoided mass-layoffs, it has often been at the cost of significant cuts in pay or hours worked. These conditions have pushed many valley families to the financial brink.
For more information about The Fox Law Office's pro bono bankruptcy services program or how to be considered for it, please call us at (408) 402-5524 or contact us here.
About The Fox Law Office
The Fox Law Office was founded by John Fox, a San Jose area consumer bankruptcy attorney focusing on representing clients dealing with unmanageable real estate debt. He brings a former mortgage industry insider's perspective to his practice. Before becoming an attorney, he worked in the mortgage industry both in loan origination and as a financial analyst.
John Fox
(408) 402-5524
###