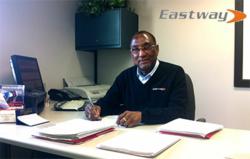 We have been doing this now for over 30 years, but by establishing a new, fresh, online presence, we hope to be able to help many more Canadians to purchase the best car for them
(PRWEB) December 27, 2012
With the launch of its new website, No Problem Car Loans, aims to make it easier for Canadians to obtain bankruptcy car loans, or bad credit car loans. Incorporating an online application capability within the website, the company believes it has made it easy for borrowers to access funds from a professional source.
The company comes well credentialed - it is run by a Eastway Credit, a division of Eastway Crysler Dodge Jeep Ltd.
"We understand that for many, the economic times in which we live are challenging" said Norton Gabriel from No Problem Car Loans. "People get disheartened when they are continually turned away from typical financial lenders. But when it comes to cars, we are experts in financing, and know different options that can help them get back on the road."
Mr Gabriel explained that often job seekers are faced with a chicken/egg situation. They want to get a job, but the job requires a car, and to get a loan for a car they need to have a job.
"Having a car opens up a lot more employment options for those looking for work - we get this" continued Mr Gabriel.
"Not only do we offer bad credit car loans, but we can also help our clients find the right car, and, despite our relationship with Crysler Dodge Jeep, it doesn't have to be one of these cars."
"We have been doing this now for over 30 years, but by establishing a new, fresh, online presence, we hope to be able to help many more Canadians to purchase the best car for them" said Mr Gabriel. "We are, of course, still contactable by phone. Our No Problem Car Loans professionals understand our clients' situations, sometimes better than they do themselves, and are able to explain the different options available. Some situations are delicate, we know, and our commitment to discretion is unparalleled."
For more information on bad credit car loans visit the company's new website NoProblemCarLoans.ca
About No Problem Car Loans
No Problem Car Loans is run and operated by Eastway Credit, a division of Eastway Chrysler Dodge Jeep LTD. With years of experience in the car business, they are expert brokers who, for over 30 years, have put their clients in cars they want, regardless of their credit history.