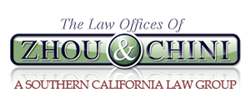 Get all the information you need to know about filing for bankruptcy in Garden Grove, call, 888-901-3440
Garden Grove, California (PRWEB) June 19, 2013
The bankruptcy law offices of Zhou & Chini have been filing petitions for Southern California residents for years, and are always looking for ways to help consumers better their financial situation. The latest "bankruptcy information Garden Grove "page added to their wiki style site provides access to state and federal guidelines for bankruptcy. Many people that wish to file for bankruptcy in Garden Grove like to learn as much as possible about the legal procedure and costs involved. The new page outlines these in a simple to read format with links to government sites for all the different Chapters of bankruptcy allowable. Most people are interested in filing for Chapter 7 bankruptcy known widely as "liquidation" or "straight bankruptcy", Chapter 7 bankruptcy provides filers with protection from their creditors and relief from many of the debts that have overwhelmed and burdened them. It will allow the debtor to clear most of the outstanding debts quickly and get a fresh start in an individual's financial life.
The page also helps in making it clear the California bankruptcy laws and more importantly the California bankruptcy exemptions. If you are filing bankruptcy in California, you are allowed to exempt certain categories of assets from liquidation. Certain states have opted out of the federal exemptions and have their own list of acceptable exemptions. The state exemptions can include various amounts of furniture, clothing, tools, pensions, and homesteads. The main purpose of the exemptions is to allow the individual to maintain certain assets that maybe needed to make a new financial start after they declare bankruptcy. Federal bankruptcy laws were updated in 2005, under the Bankruptcy Abuse Prevention and Consumer Protection Act (BAPCPA), which was passed to make it more difficult for individuals to file for bankruptcy. The Act eliminates the automatic eligibility to file for Chapter 7 bankruptcy and forces the repayment of some of an individual's debt under Chapter 13 bankruptcy. To find out more about the different rules and regulations regarding bankruptcy visit, http://www.californiabankruptcyinformation.com/wiki/garden-grove/
The Orange County lawyers use the best professional SEO consultant to assist in marketing the law office to promote the message about the importance of speaking with a bankruptcy lawyer in Garden Grove CA, if someone is considering filing. The firm continues its online presence by offering zero cost bankruptcy information on bankruptcy firm's blog and social media pages. This information along with free consultations the firm hopes to attract more Garden Grove residents looking for financial relief. To read more on the firm's Orange County bankruptcy attorney Facebook page, Facebook.com/BankruptcyAttorneyOrangeCounty
About the Firm: The Law Office of Zhou & Chini servicing the cities and counties of California. Mr. Zhou is a graduate of UCLA and has been practicing law since 1999. Mr. Zhou has a wealth of experience in bankruptcy, civil litigation, family law, criminal law and unlawful detainer. Zhou and Chini Law Offices provide bankruptcy assistance to Orange County, Los Angeles, and San Diego residents.
Contact: Ron Chini
Website: info(at)bankruptcyattorneyorangecounty(dot)org
Phone: 888-901-3440