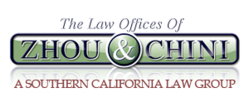 Speak to a bankruptcy lawyer in Lake Elsinore to discover your legal options.
(PRWEB) May 14, 2013
Bankruptcy attorney Zhou & Chini release another page for their California bankruptcy information website. The new bankruptcy Lake Elsinore page has many useful links and answers in regards to bankruptcy laws and how they apply. The new page has directions and a map, as well as contact numbers to the bankruptcy court that Lake Elsinore residents will need to file their petition. When someone is considering filing for bankruptcy it is important to understand all the facts. There are different types of bankruptcy for different types for situations. For example, Chapter 13 bankruptcies, often called "wage-earners bankruptcy", provide a person with a way to achieve a new start, but require the filer to pay off some of their outstanding debts. A Chapter 13 bankruptcy also contains a special automatic stay provision that protects co-debtors. Unless the bankruptcy court authorizes otherwise, a creditor may not seek to collect a "consumer debt" from any individual who is liable along with the debtor. Consumer debts are those incurred by an individual primarily for a personal, family, or household purpose. Residents in Lake Elsinore may use a Chapter 13 bankruptcy proceeding to save their home from foreclosure. The automatic stay stops the foreclosure proceeding as soon as the individual files the Chapter 13 petition. The individual may then bring the past-due payments current over a reasonable period of time. Both Chapter 7 and Chapter 13 bankruptcies prevents real property from being repossessed and halts the home foreclosure process. A Chapter 13 bankruptcy plan will consolidate all the payments and allow to reinstate the home loan while a Chapter 7 bankruptcy may be a better choice if it's a 1st mortgage is current. Additionally, filing bankruptcy may require creditors to return property that was repossessed immediately. To view the new page that offers all this information and more visit, http://www.californiabankruptcyinformation.com/wiki/lake-elsinore
The Lake Elsinore bankruptcy firm uses a SEO company to assist in law firm marketing to promote the message about the importance of speaking with a bankruptcy lawyer in Lake Elsinore CA, if someone is considering filing. The firm continues its online presence by offering zero cost bankruptcy information on bankruptcy firm's blog and social media pages. This information along with free consultations the firm hopes to attract more Lake Elsinore residents looking for financial relief. To read more on the firm's Riverside bankruptcy attorney Facebook page, https://www.facebook.com/BankruptcyAttorneyLakeElsinore
About the Firm: The Law Office of Zhou & Chini servicing the cities and counties of California. He is a graduate of UCLA and has been practicing law since 1999. Mr. Zhou has a wealth of experience in bankruptcy, civil litigation, family law, criminal law and unlawful detainer. Zhou and Chini Law Offices provide bankruptcy assistance to Orange County, Los Angeles, and San Diego residents.
Contact: Ron Chini
Website: info(at)bankruptcyattorneyorangecounty(dot)org
Phone: 888-901-3440