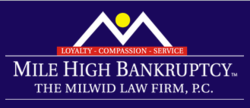 The new Mile High Bankruptcy website clearly introduces prospective clients to the firm and provides a wealth of information for people to read and educate themselves about the Colorado Chapter 7 bankruptcy process for free
Denver, CO (PRWEB) April 23, 2012
In February, 2012, the well known and highly rated Denver Bankruptcy attorney law firm of Milwid & Schlosser, P.C. changed its name to Mile High Bankruptcy and launched an exciting new website. The firm was founded in 1987 and practices Colorado consumer bankruptcy and small business bankruptcy in Denver (including Aurora, Arvada, Boulder, Englewood, Highlands Ranch and the entire Denver Metro Area) and throughout the state of Colorado. Mile High Bankruptcy always emphasizies superior client service and affordable prices.
Conveniently located near the Colorado Bankruptcy Court, Mile High Bankruptcy specializes in Chapter 7 Bankruptcy, and provides Chapter 7 bankruptcy questions and answers, and business bankruptcy questions and answers to all prospective clients with a free consultation either on the phone and in the office. Clients simply call Denver bankruptcy lawyer Peter Milwid on the phone at 303-831-0733, and are immediately connected to Mr. Milwid in person who can quickly and clearly evaluate bankruptcy options and schedule a free consultation. This way prospective clients can save time and money by talking to a Denver chapter 7 bankruptcy lawyer directly to see if they need a bankruptcy and qualify under the bankruptcy laws and rules.
The new Mile High Bankruptcy website clearly introduces prospective clients to the firm and provides a wealth of information for people to read and educate themselves about the Chapter 7 bankruptcy process for free.
Topics discussed on the website include: Do I need a bankruptcy? How much does bankruptcy cost? How do I get immediate protection from creditors before the bankruptcy is filed?
In addition the website has a wealth of Colorado bankruptcy legal resources discussing all aspects of bankruptcy law including: Benefits of Chapter 7, small business bankruptcy, Life after bankruptcy-a fresh start, and many others that explain chapter 7 and chapter 13 bankruptcy in detail.
For more information about Colorado Bankruptcy Law and how Mile High Bankruptcy can help with the entire Colorado bankruptcy legal process, please visit http://www.milehighbankruptcy.com or call us 24 hours, 7 days a week at 303-831-0733