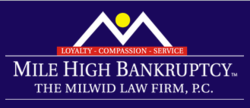 Clients have many questions when considering bankruptcy, are often confused by the legal terminology, and are concerned about how the process actually works
Denver, CO (PRWEB) July 31, 2012
Mile High Bankruptcy, an established and well respected consumer and small business bankruptcy firm in Denver, Colorado has just published a valuable new article on its website providing a step-by-step overview of exactly how the bankruptcy process works from a practical, no-nonsense point of view.
"Clients have many questions when considering bankruptcy, are often confused by the legal terminology, and are concerned about how the process actually works," says Peter A. Milwid, attorney and President of Mile High Bankruptcy. "The first questions are always very practical: 'Do I need to file Chapter 7 or are there other options?' 'What documents do I need?' 'How long does it take?' 'And what do I do next?'.
The new Colorado Chapter 7 bankruptcy overview article breaks down the bankruptcy process into individual steps from the first contact with Mile High Bankruptcy, through the document preparation process, to the receipt of a Federal Bankruptcy Discharge Order cancelling all debts at the end of the case. The article explains the timing of each step, what documents are necessary to thoroughly prepare the case, and what to expect at each phase of the bankruptcy process, including the Debtor Education Class and the Meeting with The Bankruptcy Trustee.
Understanding the procedure in plain and simple terms is very helpful for clients to alleviate much fear and confusion about the bankruptcy process. It helps peoople realize that this is an important but relatively easy step in eliminating overwhelming debt problems and getting their lives back on track.
"Knowledge is power," Mr. Milwid says, " and we at Mile High Bankruptcy seek to empower our clients with the best service, which includes being sure clients understand the process every step of the way."