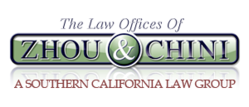 Bankruptcy attorneys in Long Beach offer top legal advice, call for a free consultation.
Long Beach, California (PRWEB) February 22, 2013
Bankruptcy attorneys in Long Beach Zhou & Chini have been working in the field of bankruptcy law for many years. There are different types of bankruptcy available and those who seek bankruptcy protection should understand the difference. Before finalizing the decision to file bankruptcy in Long Beach, one has to decide the type of bankruptcy which Chapter of bankruptcy is best suited for them. It is during such junctures that having an experienced bankruptcy lawyer can come in handy, because attorneys can help people in understanding the finer details. Negotiating the best path through the bankruptcy process raises some common questions from people contemplating a bankruptcy court filing. The bankruptcy attorneys in Long Beach have been doing an impressive job so far, and they have many clients who have come to them to seek help in such matters. Despite being popular and successful, they are looking to promote the firms services to a larger audience. For this reason they have decided to launch their own promotional video so that they can carry out their services and promote them earnestly as well. To view the latest promotional video for Long Beach visit, http://www.youtube.com/watch?v=Ubh_CCNaqao
Efficient promotion of services has become the need of most law firms. If the bankruptcy attorneys want to succeed and stay at the top of the ladder, it is important for them to engage in the right type of marketing activities. These days, videos have become a popular way of promoting the company because it can help the firm in getting a larger global audience, without a huge expense. The bankruptcy lawyers in Long Beach have put in their best efforts for the sake of promoting their bankruptcy law office. They are hopeful that the videos would help them in retaining many more clients. In their promotional video, they would be talking of the different services they provide, and along with it they would be listing important and valuable information as well. It is important to give back something to the clients, and the firm is confident that by listing some important tips and bankruptcy details, it can interest more people in utilizing their services. So, the Long Beach bankruptcy attorneys have definitely studied the details and are confident of their internet marketing strategies. They can help educate the public with the bankruptcy basics and help Long Beach residents fell more confident about their financial situation. All those who are looking to know more about the company can view the promotional video and get all required details or visit the website, http://bankruptcyattorneyincalifornia.com/bankruptcy-attorney-long-beach-ca/
The most commonly asked questions are when the debts will be discharged when they file bankruptcy in Long Beach. All debts must be included when documents are filed with the court. However, a debtor can choose to keep some debts out of the discharge or reorganization by "reaffirming" the specific debts to be excluded. In a Chapter 7 bankruptcy, debts are discharged after the process is completed, usually about four months from start to finish. In a Chapter 13 bankruptcy, the remaining debts are discharged once the court approved re-payment plan is completed by the debtor.
Bankruptcy attorneys Zhou & Chini in Long Beach has been excelling in the field of bankruptcy cases for years now. Their track record is phenomenal and they have managed to do an impressive job. With their new promotional video, the company is hopeful of serving its purpose even further as its business goals, and target can be realized and they would be able to conquer new frontiers. They are known for helping people grasp the different details thoroughly while handing their cases.
The Long Angeles bankruptcy attorneys use a SEO professional consultant to assist in law firm marketing to promote the message about the importance of speaking with a bankruptcy lawyer in Los Angeles CA, if someone is considering filing. The firm continues its online presence by offering zero cost bankruptcy information on bankruptcy firm's blog and social media pages. This information along with free consultations the firm hopes to attract more Long Beach residents looking for financial relief. To read more on the firm's Orange County bankruptcy attorney Facebook page, or the firms YouTube channel here, https://www.youtube.com/user/BankruptcyLosAngeles
About the Firm: The Law Office of Zhou & Chini servicing the cities and counties of California. He is a graduate of UCLA and has been practicing law since 1999. Mr. Zhou has a wealth of experience in bankruptcy, civil litigation, family law, criminal law and unlawful detainer. Zhou and Chini Law Offices provide bankruptcy assistance to Orange County, Los Angeles, and San Diego residents.
Contact: Ron Chini
Website: info(at)bankruptcyattorneyorangecounty(dot)org
Phone: 888-901-3440