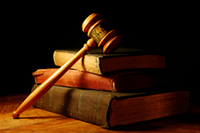 The best bankruptcy leads are those that are presold.
Austin, TX (PRWEB) June 28, 2010
Heralding it as a "Dynamic 21st Century Bankruptcy Marketing Model" on its Bankruptcy Marketing resource page, USA-Bankruptcy-Guide.com announced today the launch of its innovative USA Bankruptcy Lawyer Directory.
The online USA Bankruptcy Lawyer Directory bridges the gap between traditionally expensive advertising campaigns and typically ineffective directory listings by enabling consumer bankruptcy professionals to create their own full page profiles customized with their own unique content.
Since 2006, USA-Bankruptcy-Guide.com has provided free, state-specific information and resources in a safe and compassionate setting to individuals contemplating chapter 7 bankruptcy.
By launching its own customized and premium online directory, USA-Bankruptcy-Guide.com is providing an additional level of value to this growing traffic base while creating a new level of opportunity for individual attorneys and bankruptcy firms eager to showcase their practice, expertise, and humanity.
As the site's must-read Bankruptcy Marketing resource page states, "The best bankruptcy leads are those that are presold." Inclusion in the USA Bankruptcy Lawyer Guide provides bankruptcy attorneys and law firms quality access to motivated individuals in their own geographic area who are actively seeking pragmatic solutions for overwhelming issues of personal debt.
The ensuing results can be powerful - the opportunity for bankruptcy professionals to really connect with potential clients before those potential clients ever visit their website or call their office.
Additionally, the expanded Full Profile bankruptcy marketing model has another crucial advantage. Instead of competing for space and attention with the free content on an information-oriented site, a dedicated Full Profile page becomes another source of that content and may even begin drawing organic search engine traffic on its own merits. In some ways, the Full Profile page resembles and functions as its own miniature website.
The drawback to most online directories is that they are stand alone and receive few visitors. But with the approach taken by USA-Bankruptcy-Guide.com, the site's valuable content and its rich online directory pages are designed to complement and reinforce one another in a positive, self-reinforcing loop.
USA-Bankruptcy-Guide.com makes the USA Bankruptcy Lawyer Directory more valuable which, in turn, makes USA-Bankruptcy-Guide.com more valuable.
Interested bankruptcy professionals can find additional information about the USA Bankruptcy Lawyer Directory, learn how to add their own practice or law firm, and view a Full Profile example by visiting the site's Bankruptcy Marketing page.
# # #