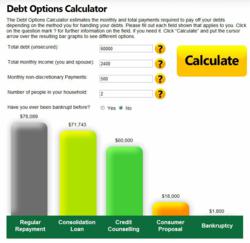 We want to offer people answers to their questions and provide tools to help them make the right decisions
Toronto, ON (PRWEB) July 31, 2012
Don Allen & Associates Inc. has recently begun offering free financial advice and tools to help individuals and businesses deal with and solve their debt problems via their website. These bankruptcy and debt specialists have been successfully running offices out of Toronto and Collingwood for several years, and in the past year launched offices in the Barrie and Owen Sound districts.
"We want to offer people answers to their questions and provide tools to help them make the right decisions," Don Allen, CA.CIRP CFE, Trustee in Bankruptcy and President, explains. In the second half of 2012, Don Allen & Associates hope to provide high quality and interesting content to their readers, gaining traffic to their site, in turn assisting hundreds of people with their struggle out of debt. This growing blog is going to touch on subjects such as consumer proposals, bankruptcy, debt management and many other topics along the lines of personal finances.
Don Allen & Associates have also incorporated free debt tools on their website, from calculators to worksheets. An interesting tool is the Debt Options Calculator. This Calculator takes information such as debt amount, income and monthly payments to show approximately what each method of debt assistance will cost. Another frequently used free tool is the budget and monthly expense worksheet to help track expenses and keep them in line.
Where sometimes resources are hard to come by or hard to take in, Don Allen & Associates have tried to make it easy for everyone by providing a full financial glossary, outlining terms that the general public may not completely comprehend. These new resources being offered on Don Allen & Associates' website are helping people and families all over the world get a handle on debt problems.
For more information or to utilize these free resources, visit http://www.allentrustee.ca.
Don Allen & Associates Inc.
Don Allen, CA.CIRP CFE, Trustee in Bankruptcy and President
4 King Street West, Suite 1235
Toronto, ON M5H 1B6
Toll Free: 1-888-504-1511
Email: info(at)allentrustee(dot)ca
Web: allentrustee.ca