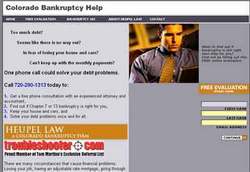 We provide bankruptcy services that are affordable and efficient
Denver, CO (PRWEB) August 20, 2008
(PRWEB) As the targets of numerous jokes and jibes, attorneys have a greater occupational stigma to overcome than most other professionals. To help establish objective credibility, Kevin D. Heupel, personal bankruptcy lawyer and President of Colorado Bankruptcy Help, has sought and received the personal endorsement of renowned consumer advocate Tom Martino. Martino has added Colorado Bankruptcy Help to his exclusive database of business referrals located online at referrallist.com.
Referrallist.com is different from other online directories in that payments from prospective advertisers do not automatically entitle them to listings on the site. Business owners must apply for the privilege of advertising on referrallist.com and must undergo an extensive background investigation before an approval decision can be made. Advertisers on the site must also submit to ongoing monitoring and agree to mandatory arbitration of any customer disputes if they wish to maintain their listings.
Colorado Bankruptcy Help was approved after Heupel answered Martino's in-depth customer service and bankruptcy questions, and after Heupel's expertise and track record as a personal bankruptcy lawyer was independently inspected. Customer-oriented policies such as flexible payment plans and $100 service retainers helped cement Colorado Bankruptcy Help's position among the elite legal firms featured on referrallist.com.
"We provide bankruptcy services that are affordable and efficient," explains Heupel. "Our bankruptcy services help our clients get through the process with their dignity and respect by providing sensible solutions to their financial situations."
Coloradoans that are interested in Heupel's services can request free evaluations through Colorado Bankruptcy Help's Web site at cobankruptcyhelp.com. The site also features an extensive Bankruptcy 101 section that details the different types of bankruptcy and offers easy to understand answers to complicated bankruptcy questions.
Referrallist.com is owned and operated by Troubleshooter Network, Inc., which produces The Troubleshooter Show, the nationally syndicated talk radio program hosted by consumer advocate Tom Martino. In addition to his radio show and appearances in multiple other media, Martino is known for exposing dishonest businesses and helping consumers to recover millions of dollars lost as a result of fraudulent and unfair business practices.
For more information about Colorado Bankruptcy Help and answers to some of the most common bankruptcy questions, please visit cobankruptcyhelp.com.
About Colorado Bankruptcy Help:
Licensed personal bankruptcy lawyer Kevin D. Heupel started the Denver, Colorado-based law firm Colorado Bankruptcy Help to assist Coloradoans with substantial debts. Endorsed by the nationally syndicated radio talk show host and consumer advocate Tom Martino, Colorado Bankruptcy Help offers free consultations to its respective clients and affordable retainers on effective, compassionate legal financial services.
###