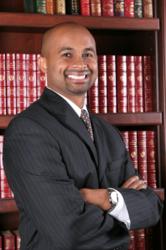 Though the current situation facing homeowners today is daunting, most do not have to lose their homes to foreclosure
Rancho Cucamonga, CA (PRWEB) March 30, 2012
Rodrigo Law Firm continues to be engaged and supportive of the Inland Empire's residential and business community.
Rodrigo Law Firm is now a network attorney for AARP and can assist the elderly community with their Estate Planning and/or Bankruptcy needs by offering discounted rates to members.
"The growing number of the elderly population leads to many individuals preying on our senior citizens by offering them quick, cheap Wills and Trusts, which turn out only to be a scam to obtain their personal and financial information," said Attorney Candice A. Garcia-Rodrigo. "That is why I joined the Speakers Bureau formed by the State Bar of California, which educates the local senior community on estate plans and identifying fraudulent schemes."
Mrs. Garcia-Rodrigo will be visiting local senior citizen centers to speak to elders free of charge about avoiding elder abuse.
Rodrigo Law Firm has also led an effort to connect Inland Empire residents with quality, financial legal advice by hosting bankruptcy seminars and educating its financially-distressed consumers.
"The Inland Empire is one of the most economically-damaged regions in California, with many consumers suffering from massive foreclosures and unemployment when the economy declined," stated Attorney Aruna P. Rodrigo.
The firm recently announced that it is offering discounts to those who founded small businesses, closed corporations and non-profit organizations in this economy.
"Though the current situation facing homeowners today is daunting, most do not have to lose their homes to foreclosure," said Mr. Rodrigo. "Bankruptcy is a viable alternative to losing your family residence to foreclosure. I take the time to explain the difference between each Chapter filing and answer all the questions a person has before making an informed decision to file for bankruptcy."
Rodrigo Law Firm, based in Rancho Cucamonga, California represents clients in the Inland Empire and surrounding areas, while also providing special appearance services for other local and national law firms.
For more information on the Rodrigo Law Firm call 800-581-4049, 909-212-0320 or visit http://www.rodrigolawfirm.com.
For media inquiries, interviews and speaking engagements, contact:
Yvette Morales
YM & Associates
PR|Marketing|Branding
California | New York
949.244.9769 | 310.499.0906 Fax
YMoralesY(at)YM-PR(dot)com
YM-PR.com